DuPont State Forest: Take a Hike, Already!
We gravitate toward parks and forests like little old ladies head straight to the nickel slots.
So it's no surprise that this was near the top of our must-see destinations in and around Asheville.
Located about an hour south of the city and about twenty minutes east of Brevard in North Carolina, DuPont State Forest is a great place to explore nature.  Here are some fast facts:
Over 10,000 acres of land and 100 miles of trails
Six waterfalls and five lakes
Originally owned by the DuPont Corporation
Appeared in films "Last of the Mohicans" and "The Hunger Games" (who knew?)
So we're talking about an enormous, well-preserved natural area expertly cared for by the North Carolina forest service and enjoyed by hundreds of tourists in the fall season. The parking lot was full even on a weekday.
This photo series is a step-by-step representation of our day.
Hooker Falls
When you first drive into the park, pretty soon you'll see a parking lot off to the right and a trailhead to the left.  A very short walk from this trailhead is Hooker Falls, pictured below with its accompanying trail.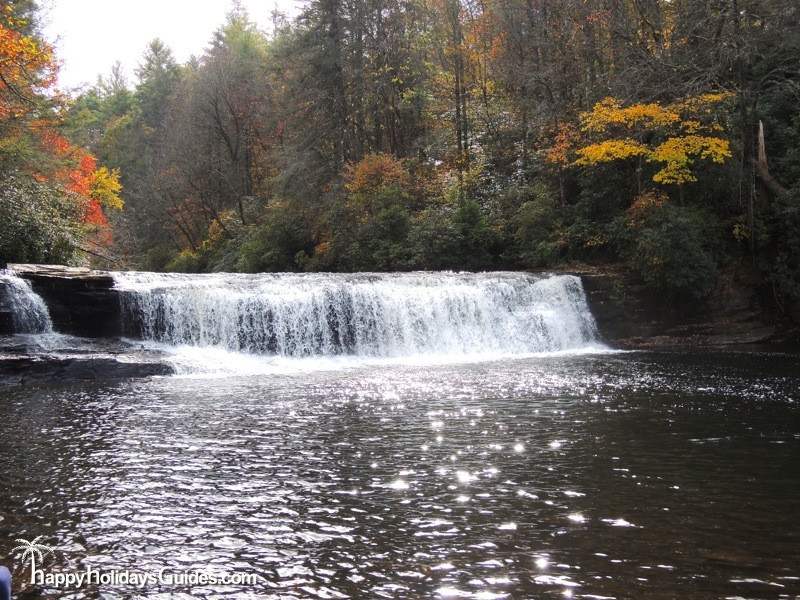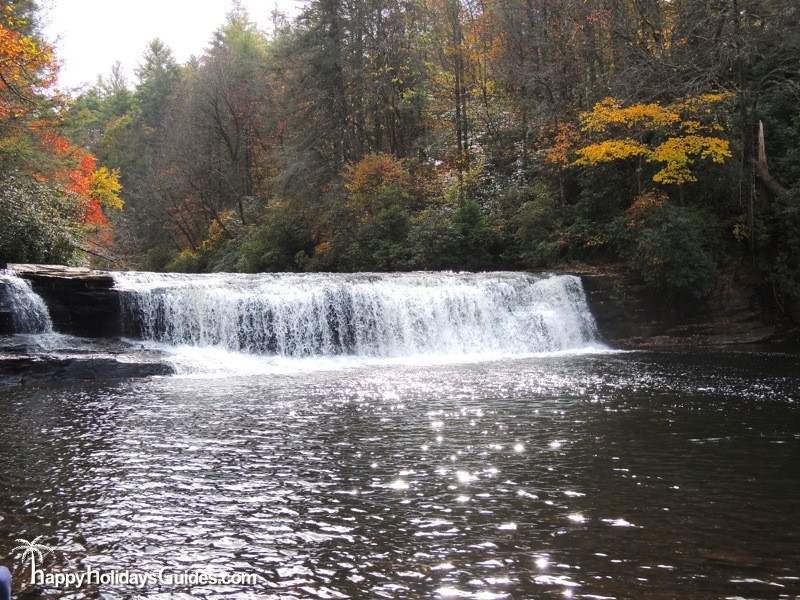 Hooker Falls Trail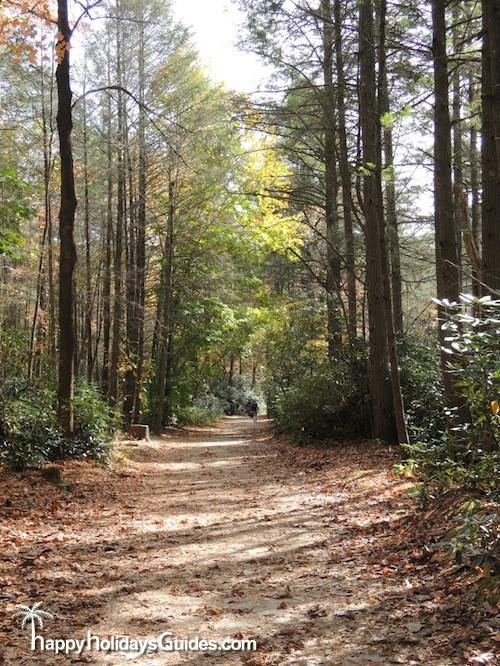 The White Trail to/from the Visitor Center
After exploring the first falls, we drove back up on the main road and very soon saw the Visitor Center on the left, where we grabbed a map and started immediately on the White Trail, evidenced below with its neatly manicured crushed limestone.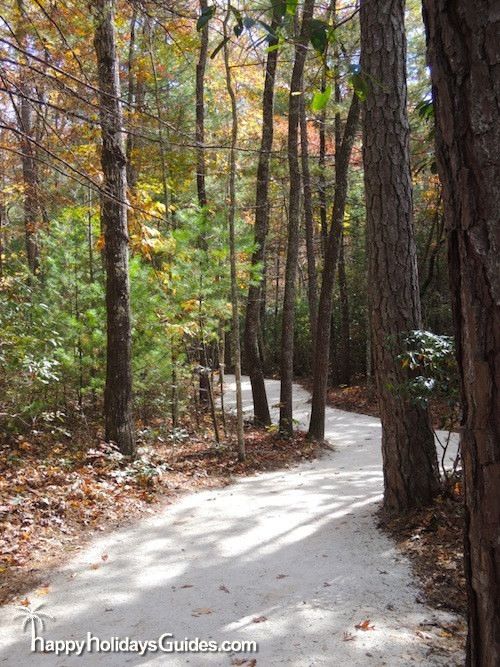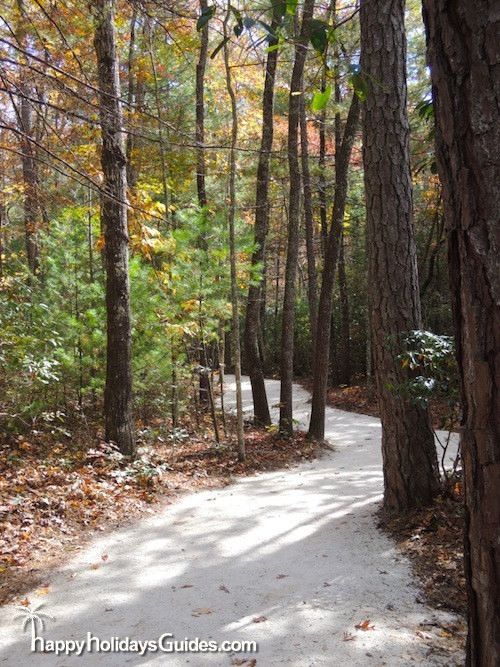 High Falls
The first waterfall on the Blue Trail (which connects from the White Trail) is High Falls.  OK, so here's the thing — it doesn't look so impressive in this picture, does it? You may be thinking, "High Falls – meh."  So what you need to do now is direct your eye to the bottom right corner of the photo. See that little tiny purplish speck on the rock? That's totally a person. A full-grown adult person.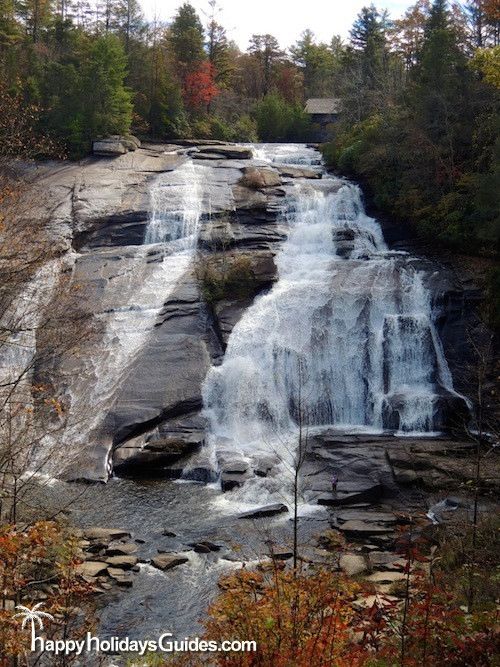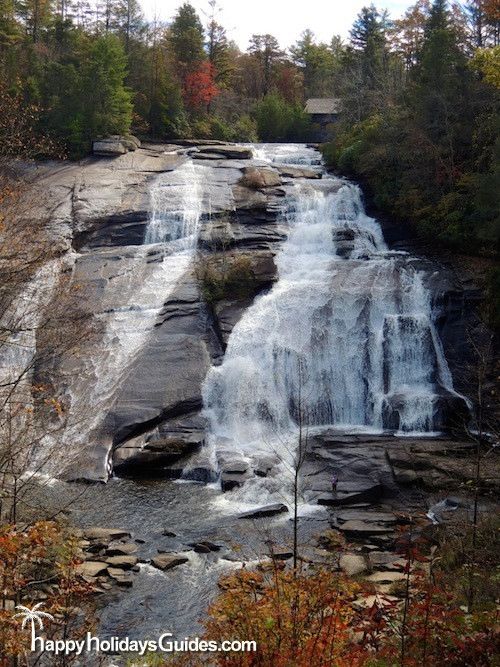 High Falls Zoom View
In a stroke of what can only be described as spontaneous genius, I got the idea to have Darren take a picture through our compact binoculars. And here's the little miracle we captured – this woman at the foot of the falls. Now you get why they call them "High Falls."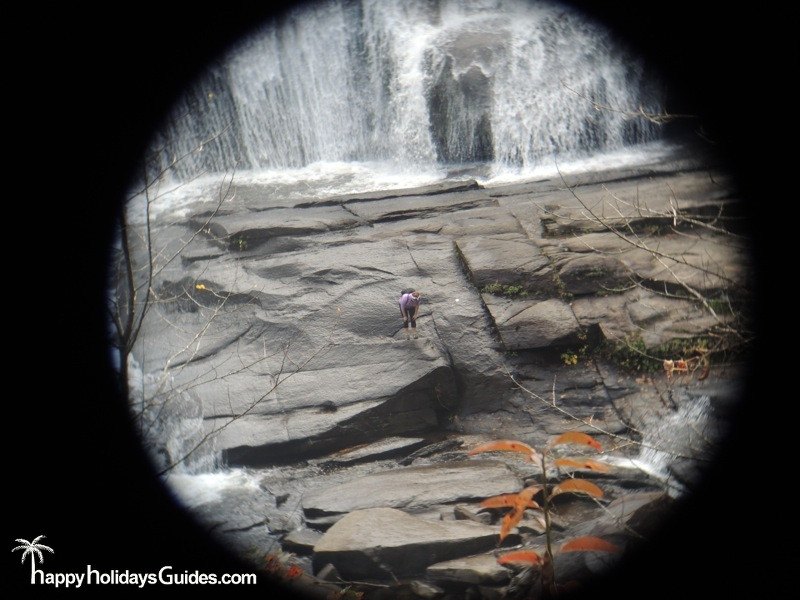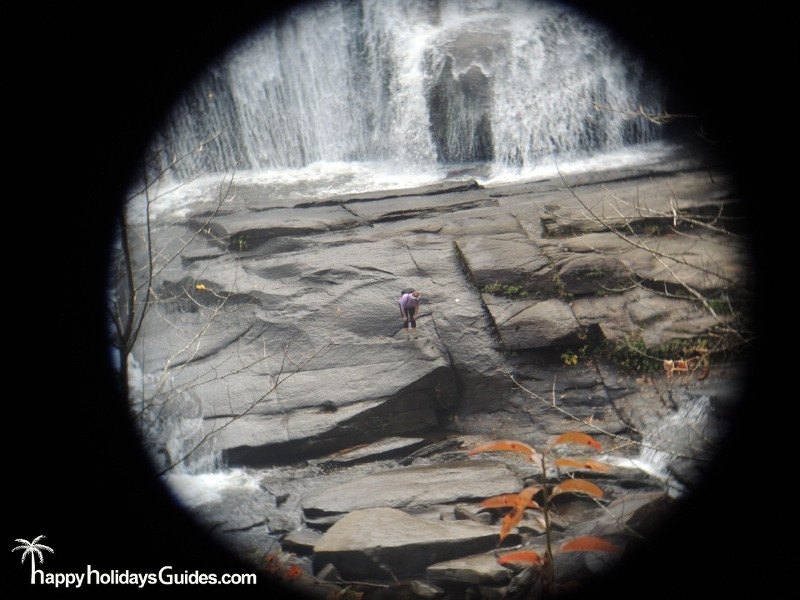 Trail from High Falls to Triple Falls
This place is totally storybook. It's easy to understand why Hollywood comes to visit.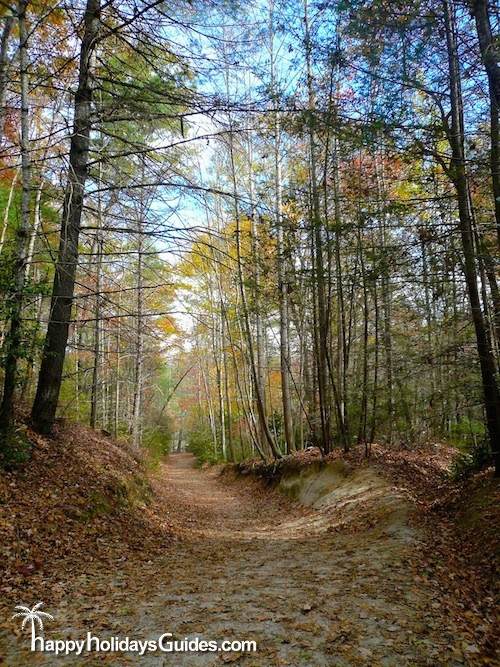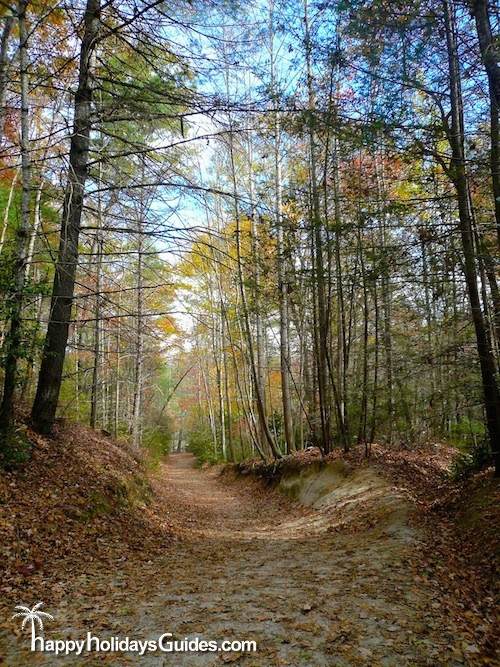 Triple Falls
The last big stop on our route (White > Blue > Red trails) was Triple Falls…so named for obvious reasons. The lighting wasn't ideal, unfortunately, but rest assured it was quite lovely. Be warned, you must climb down a few flights of stairs to get to this spot, but it's totally worth it. We had our afternoon picnic on one of the stair landings, as they have convenient benches.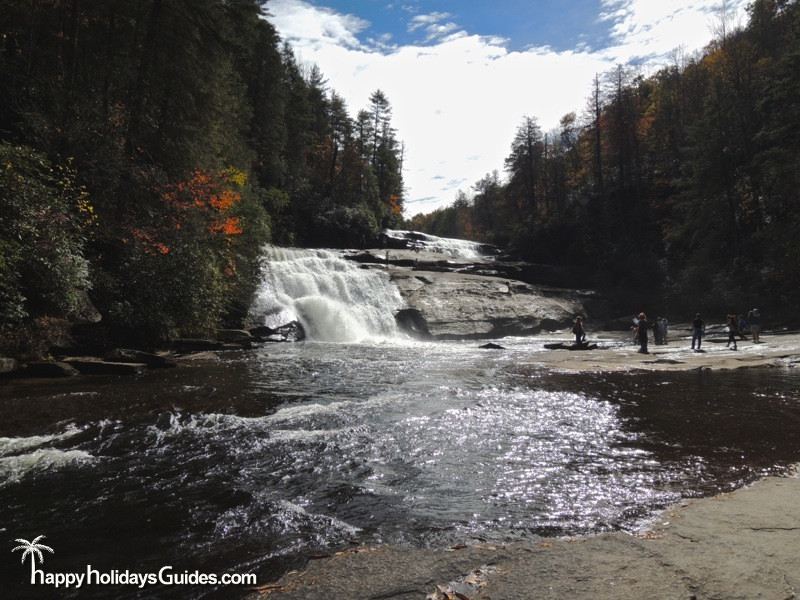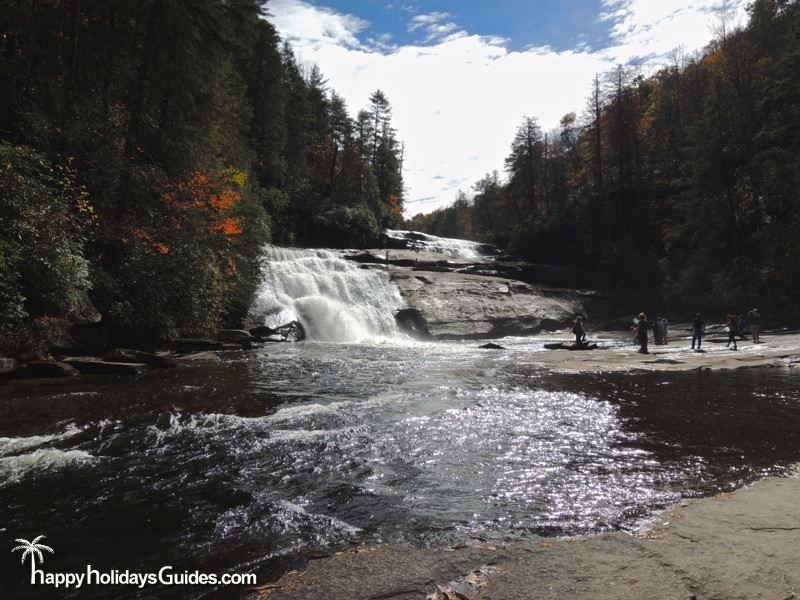 Typical Forest View
After Triple Falls, you get a LOT of this type of scenery. We can only imagine how verdant and alive it must look in the spring and summer.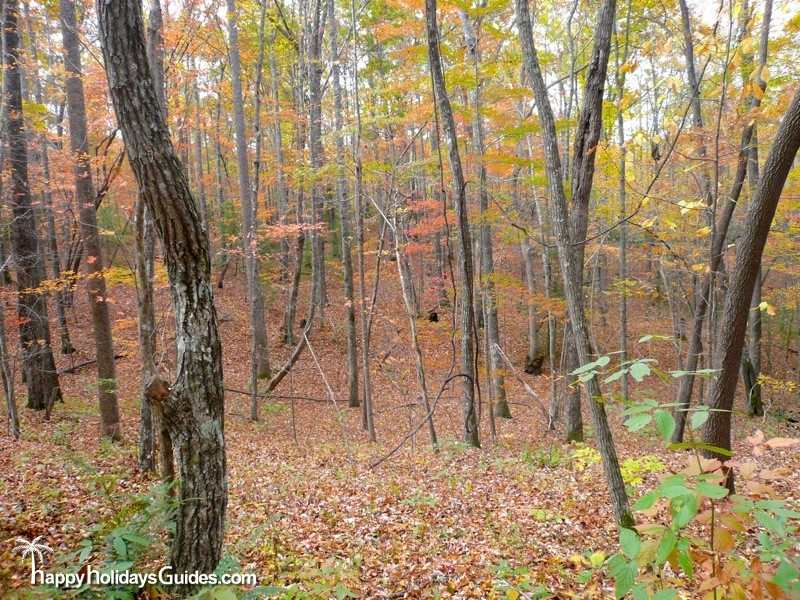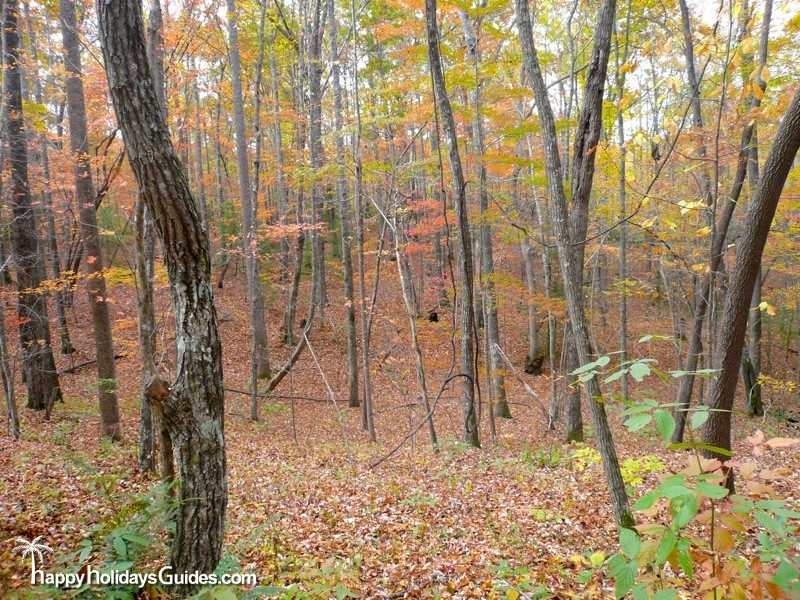 Visitor Center:  Insanely Detailed Diorama
So I'm not entirely sure which volunteer organization constructed this, but it is CRAZY.  The ENTIRE PARK is depicted in the diorama. This is just one teensy weensy sliver of the entire structure, whose level of attention to detail is pretty mind-boggling.  To give you an idea of scale, this was shot on macro setting, and the "Red Trail" depicted here is a thin shoelace. They're not fooling around at the DuPont State Forest Visitor Center, tell you what.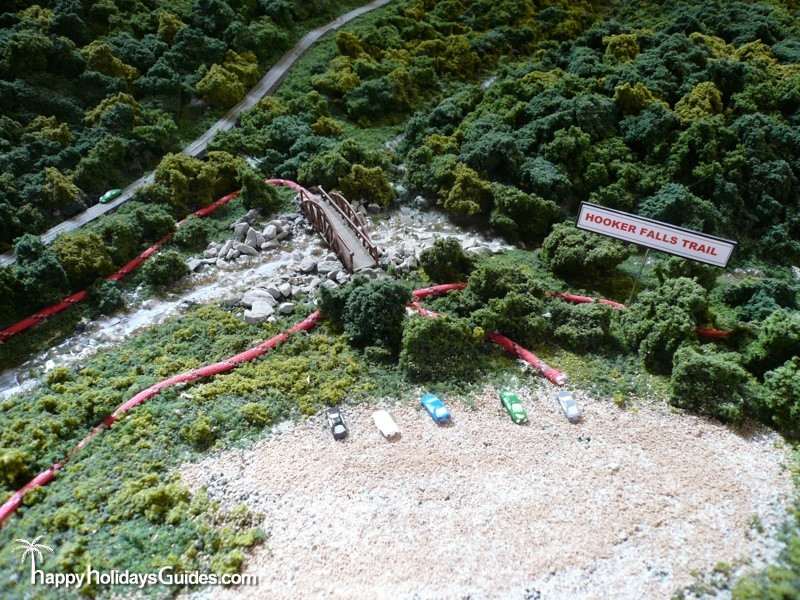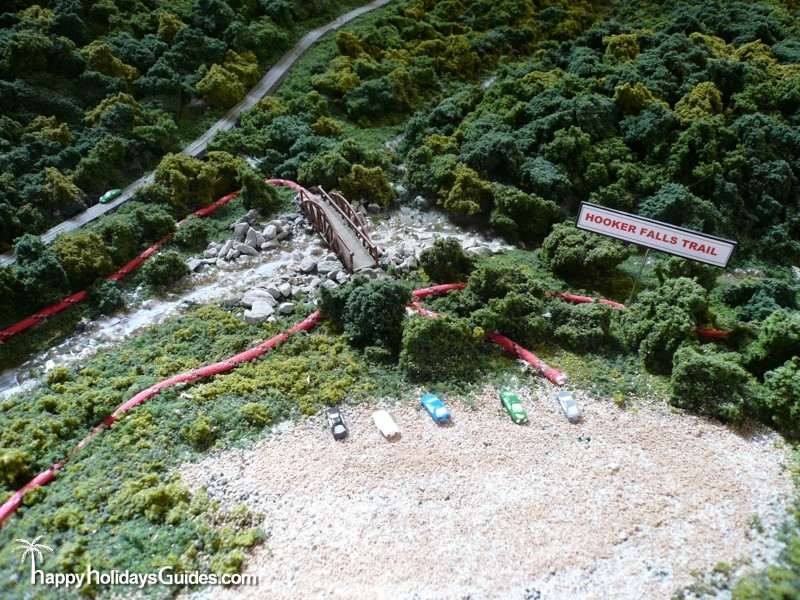 Visitor Center: Hardcore Wood Floor
The place was buzzing, so this was one of only a few seconds where people weren't standing on this beautiful eight-wood inlay. Yes, eight. They have a key there so you know which wood is what. Make no mistake — the folks at the NC Forest Service are 100% on their game.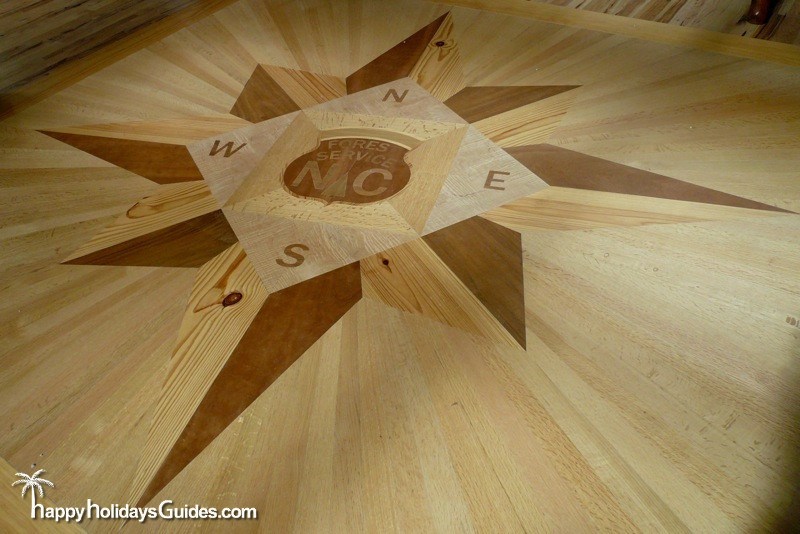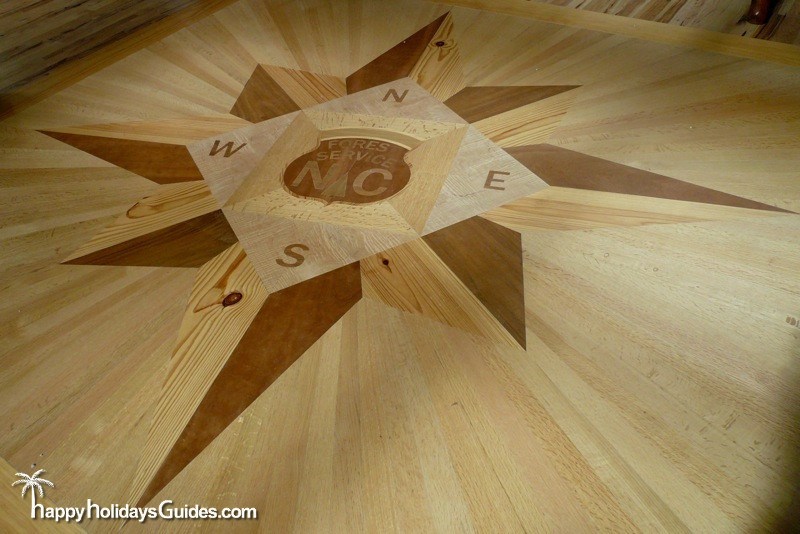 For more detailed information, visit the DuPont State Forest page on the North Carolina Forest Service's website.
We hope you enjoyed our short photo tour of the DuPont State Forest trails and waterfalls. Definitely recommend a visit!
---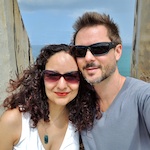 Darren took each of the photos, and Lisa manages the words around here. 100% original material, with more on the way — subscribe to our RSS feed so that you don't miss any of it.
Have you signed up for updates, free travel wallpaper and a packing list yet? You totally should.
Share if you know anyone who would enjoy this and lastly…want to send us a note? We've got the Twitters and the e-mail.