So chances are you have a friend, or a family member, who loves to travel.
And sometimes, even though they may be sitting on the tarmac for hours or fumbling with a new language, their life looks really glamorous and you wonder if you wouldn't like to trade places for just a bit — especially the bit where they go to Bali for a month.
Now this person maybe has a birthday coming up, or they are going around the world for a year, or the holidays are around the corner. Not sure what to get them? Good news — we scanned for affordable, well-reviewed, travel-friendly items to give you a good list of travel gift ideas. Take a look below and see which of the following will make the perfect gift for the gallivanting globetrotter in your life.
Portable Multi-Device USB Charger

We have so many indispensible electronic devices now – phone, mP3 player, GPS, tablets, etc. There's a need, especially during travel, to make sure that all the necessities and luxuries are quickly and safely charged, even simultaneously! This little portable battery ensures that you can charge up all your iGadgets while you're on the road, in an airport or even hiking!
Click to take a closer look at the Bolse 7-Port USB Charger.
Travel Plug Adapter
Again with the electronics! But imagine being in unfamiliar territory and not being able to plug in to get connected with all the things you need to access? The great thing about this kit is that you can choose the global 5-pack or narrow it down to a smaller kit depending on which country or countries are on the itinerary. Not sure which adapter you need? Check out our outlet guide.
Click here to see the Ceptics International Travel Plug Adapter Sets.
Southwest Airlines Gift Card
Sometime in the 20th century a genius invented gift cards, which are basically cash earmarked for a specific purpose and vendor. For the frequent Southwest-ie this is a great gift, with choices of $50, $150 and $200 denominations, good for any SW destination. (Here's their Route Map, btw.)
Click here for the Southwest Airlines Gift Card $50 – $200.
The iPow "Selfie Stick"
Perfect for the solo traveler or couples, this new "selfie stick" works with the most popular phones (including iPhone and Samsung Galaxy) so that you can get picture-perfect selfies every time. Activates by remote bluetooth connection for complete snap control. Gone are the days of the all-too-close-up, arm-in-the-way shots thanks to this compact travel-friendly phone mount.
Check out the iPow Extendable "Selfie Stick" Phone. Mount.
RFID Card Case
This compact case offers RFID cloaking for all your important travel cards: driver's license, credit cards, and the newer card passports. Protect your information from remote hacking in this pocket-sized slim metal case.
Click here to check out the sleek travel Stainless Steel RFID Blocking Card Holder.
J.R.R. Tolkien Quote Travel Compass
Popularized by The Lord of the Rings, the "Not all those who wander are lost" quote is a favorite of the travel set. Engraved on this lovely gold-plated compass, this gift will always help your favorite traveler find his or her way. Perfect for hiking, of course, but also for navigating new cities and getting your bearings with any type of map.
Take a closer look at the "Not All Those Who Wander Are Lost" Compass.
Road Trip Soap
A fun, whimsical gift for your favorite roadtrippers!  This natural handmade soap comes in a handsome compact tin perfect for traveling. It's actually great to keep in your car at all times so you have soap on hand whenever you may need it. At under $10 this is a fun, relevant token to share with your wandering friends.
Get Road Trip Soap – 100% Natural & Handmade, in a Reusable Travel Gift Tin.
Travel Pillow
This well-reviewed inflatable travel pillow has the benefit of being collapsible, fitting comfortably in most seats, and offering a head rest for middle and aisle seats. It comes in four colors and has a soft surface — no more waking up with a sore neck or slouching over on the food tray! The best part is you can just deflate it and roll it back up when you are done napping.
Take a look at Travelrest – The Ultimate Inflatable Travel Pillow.
Luggage Scale
Being told your luggage exceeds the weight limit and you'll have to pay a hefty fee? The worst. Actually: correction. The worst is trying to offload items at the airport to get under the weight limit. This handy-dandy luggage scale lets you clamp, lift, and check your bag weight *before* you leave the house. Over 400 reviews, with an average of 5 stars. Of the travel gift ideas listed here, this one has the potential to save your loved one money and airport hassles.
Give someone the Jetsetter Digital Luggage Scale (110 lb capacity).
Packing Cubes
These packing cubes are ridiculously popular for a reason.  Over 1,000 reviews boasting an average of 5 stars. These packing cubes allow you to organize and then architecturally organize your luggage with building blocks. Different sizes help you categorize clothing and other items, so you know exactly where you packed what. These come in eleven colors to suit your fashion fancy and are durable, collapsible, and compact.
Take a look at the popular eBags Packing Cubes 3pc Set.
Need more travel gift ideas?  Head over to our Travel Essentials Supply Store and click on the left-hand column for a list of items for the beach, for camping, for her, and luggage and accessory recommendations. Enjoy and happy holidays!
---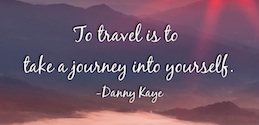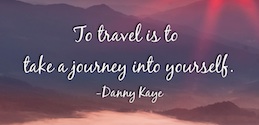 This travel quote moves and inspires us, so we have created free wallpaper files for your desktop, tablet, and phone.
Click here for your free file download and get a bonus printable packing list! 🙂