San Juan, Puerto Rico – an unforgettable destination.
When we first touched down in San Juan, we had no idea we'd walk away completely charmed. So charmed, in fact, we wrote a book about our experience. As a local, there are countless restaurants, parks, shops, and nightlife venues to enjoy. As a visitor, there are a few "must" things to do in San Juan that we encourage you to put on your list — as we hope to show you with these original photos. 
What's so special about San Juan? Here are four things to start the list:
History: Founded in 1521, it is the second-oldest city in the Americas.
Weather: The temperature tends to stay between 60° and 90°F year-round, with a refreshing ocean breeze.
Beauty: Spanish colonial architecture and nature abound.
Culture: You will find a rich tapestry of caribbean cuisine, music and the arts.
There are so many things to do in San Juan Puerto Rico, but we'll start with a few pictures of one of the most impressive.
San Cristobal Castle
Along with the San Felipe del Morro castle, the San Cristobal castle comprises the San Juan National Historic Site (run by the U.S. National Park Service). Cristobal Castle is the largest Spanish fort in the Americas, and if you want to hear something unbelievable, how's this — you can tour the entire site for $5! You can join a ranger for a tour, you can read the placards for history, or you can stand at the top level with your mouth agape looking at stunning views like these:




San Cristobal Castle View to El Morro
Less than a mile away to the northwest, you find Cristobal's partner in San Felipe del Morro castle, commonly called El Morro. Here you see a view from one of the "lookout points" where Spanish soldiers stood centuries ago watching for (and spotting) invading English ships. Today you can just look out at the ocean and the charming seaside street on the way to El Morro.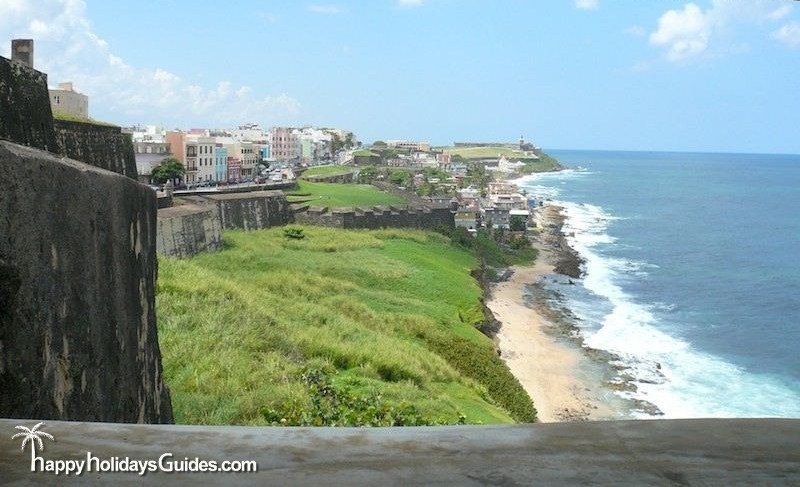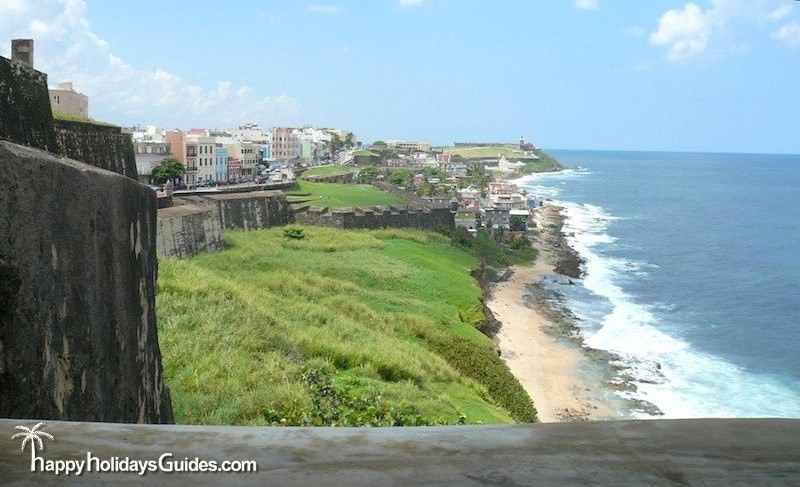 Santa Maria Magdalena de Pazzis Cemetery
Whether you hop on the free trolley or walk the short way to El Morro, you may want to stop awhile to admire the beautiful headstones at St. Mary Magdalene of Pazzi cemetery. If you're interested in who is buried here, here is a list. (Thank you, Wikipedia!)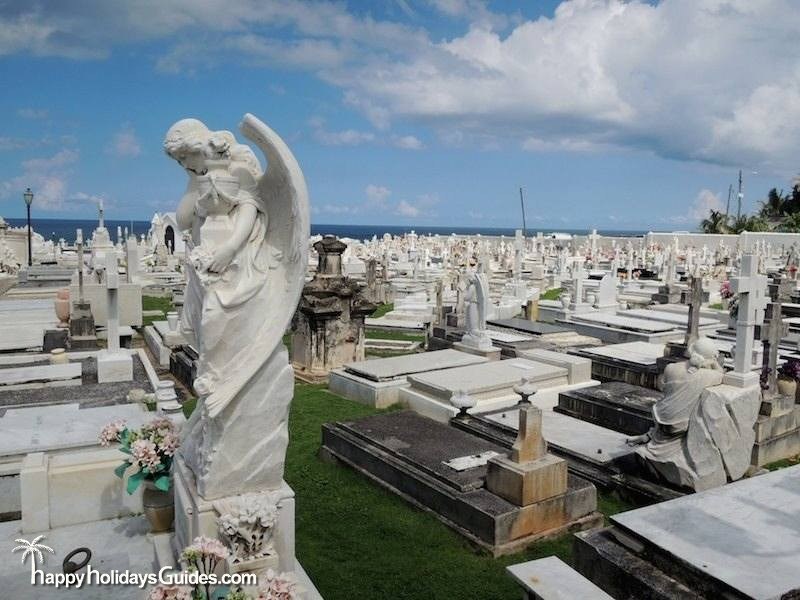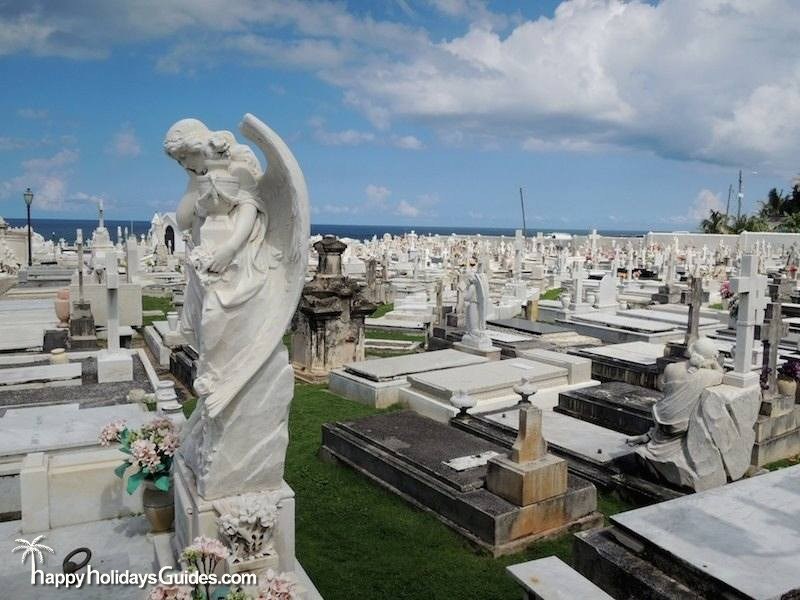 San Felipe del Morro Castle
Centuries ago, much of San Juan was fortified by the enormous stone walls you see in some of these photos, but over time they deteriorated or were taken down. Yet San Felipe del Morro ("El Morro") still stands as a well-preserved glorious citadel. This view — one of our favorites in all of San Juan — is simply magical. To know that people have been enjoying that vista since the 16th Century is kind of amazing.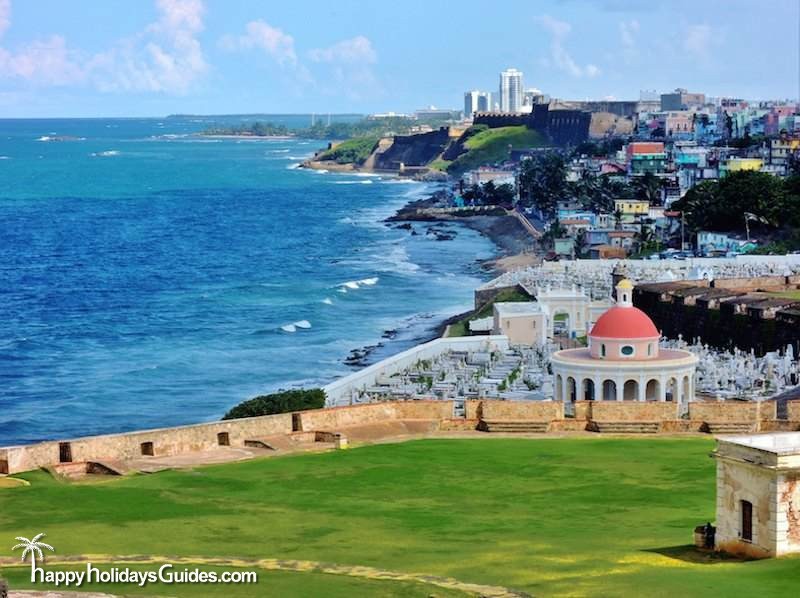 El Morro Park
Outside the castle you'll find this expansive field which is perfect for a picnic, relaxing, or flying a kite on the ocean breeze. It's a great place to relax after you've been climbing all over historic forts!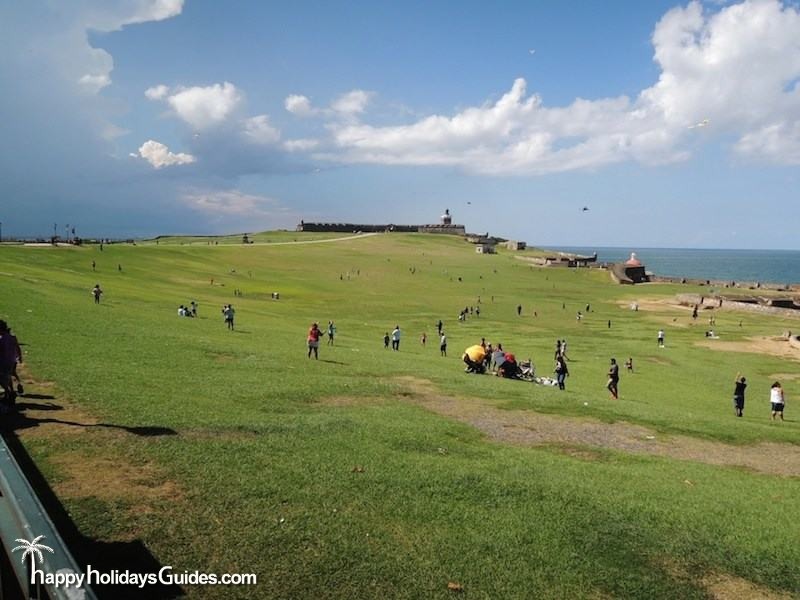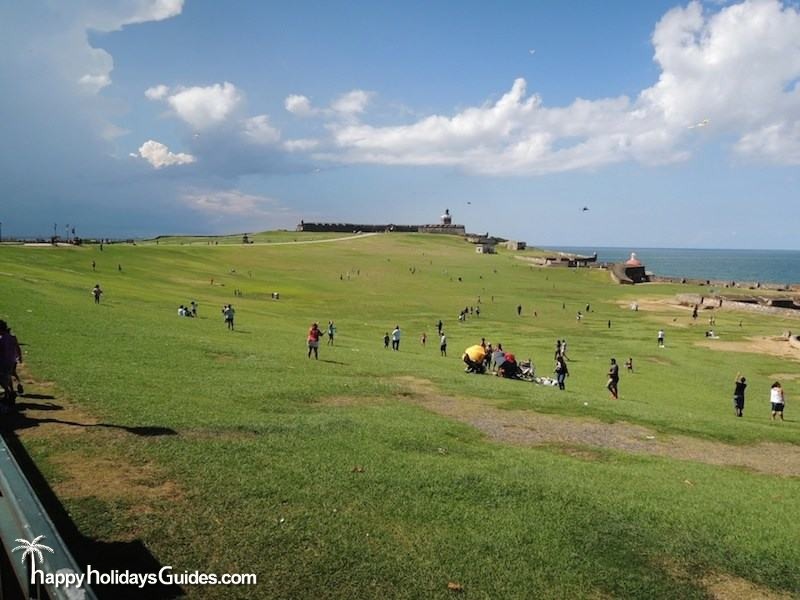 Old San Juan Blue Cobblestone Streets
As you wander through Old San Juan — visiting shops, admiring the architecture, and hopefully stopping in some of the wonderful restaurants — you may notice blue cobblestones underfoot. Some of the streets are being resurfaced with not-as-blue bricks, but some are originally from the colonial period and are quite magnificent, like this one.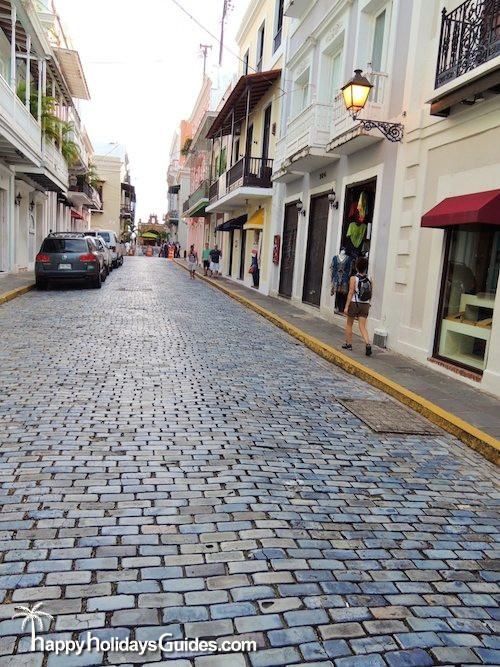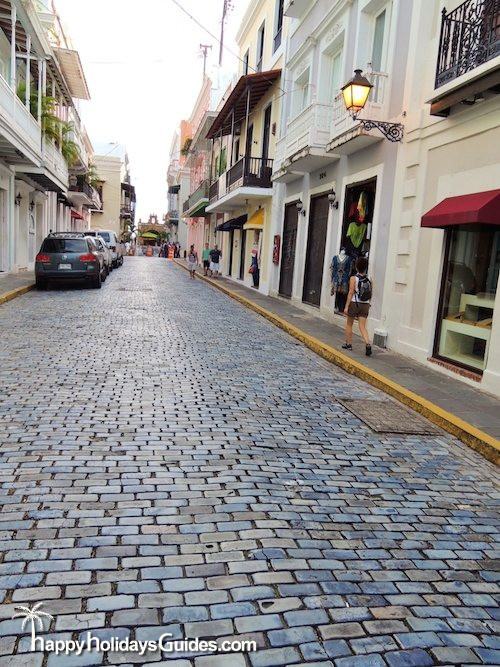 La Rogativa
South of El Morro, where Sol and Las Monjas streets intersect, stands one of San Juan's most oft-pictured statues: La Rogativa (The Procession). In 1597 San Juan was under siege by British troops and a bishop led a torchlit group of citizens praying for deliverance. The British mistook the illumined procession for Spanish reinforcements and retreated. No wonder they memorialized the occasion with a statue.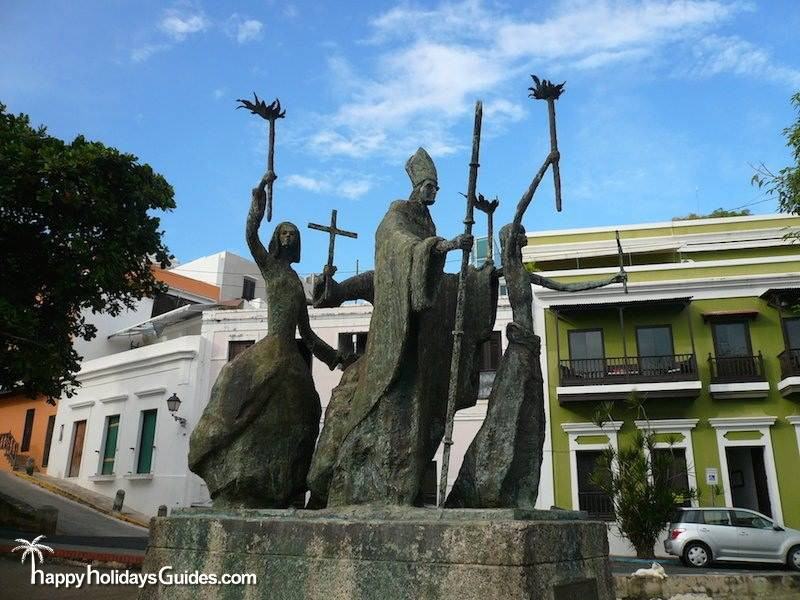 Crecimiento Monument
"Crecimiento" means "growth," and these spikes do seem to be growing out of the earth. You can find them on the enjoyable stroll on Paseo del Morro as you make your way south to the Paseo de la Princesa – a highly recommended walk. You'll find enormous trees draped in Tarzan-like vines and benches so you can stop and enjoy along the way.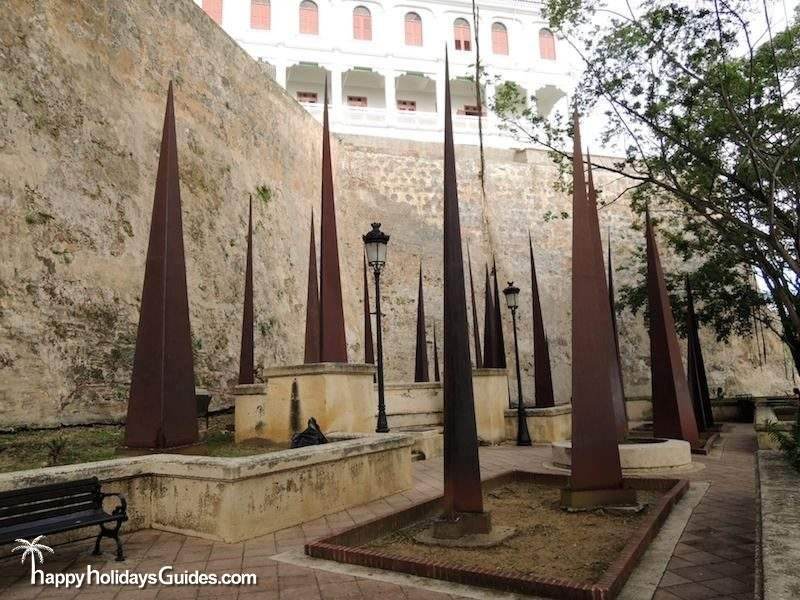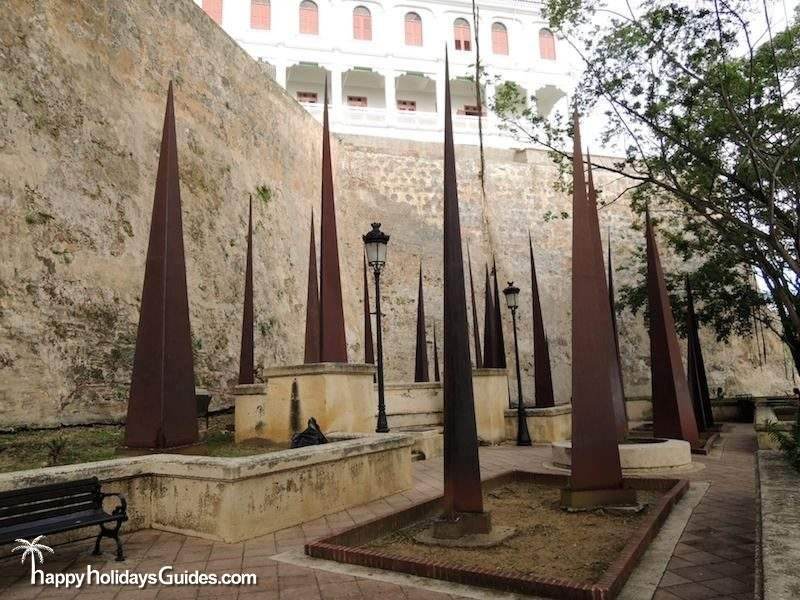 The Raíces Fountain
At the end of the Paseo de la Princesa, by the water and next to the piers, you will find the beautiful "The Roots" fountain and a host of people gathered around milling about, with either some outdoor event, community fair, or just relaxation with treats from the street vendors.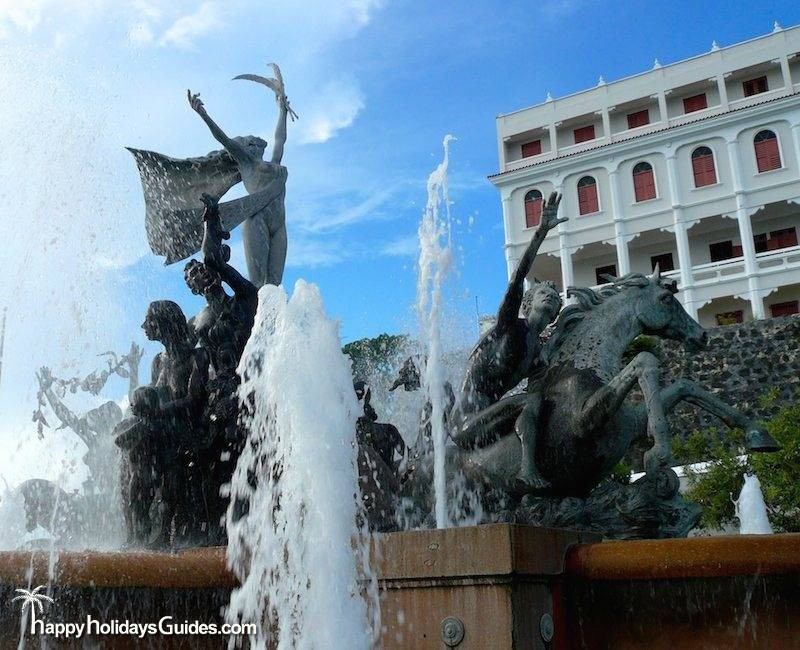 San Juan Night View
A San Juan "Yelp" nightlife search will connect you to numerous restaurants, bars, shops, and nightclubs, which we encourage you to explore. But sometimes, at least for a moment, it's nice to savor the beauty of San Juan at night – full of sparkling lights and the chorus of the coquí frog.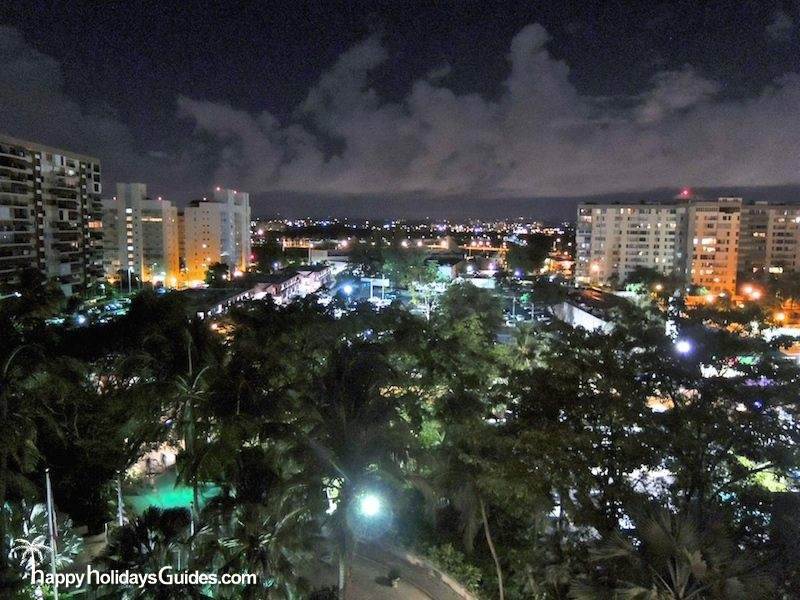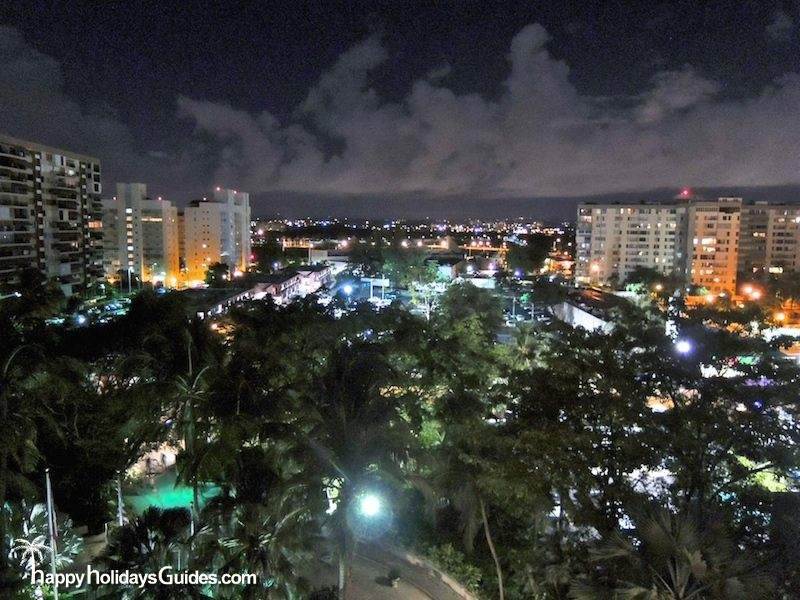 Some additional things to do in San Juan – guided tours:
Take a half-day food tour, sampling foods from over six restaurants: Old San Juan Food Tour.
Take a 5-hour small-group adventure that covers a tour of the Bacardi Rum Distillery as well as a walking tour of some of the key sights in Old San Juan. Tour arranged by Viator and includes transportation.
We hope these photos gave you an enticing idea of some things to do in San Juan Puerto Rico. It's only a snapshot, but we found it to be a rich and rewarding experience.
Go back to the Puerto Rico collection of articles and photos.
---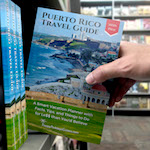 With so much exploring, good food, and good walking shoes, we just loved our visit to Old San Juan. You can learn much more about the island and even help plan your vacation in our Puerto Rico Travel Guide, now available on Amazon as an e-book. (No bulky books to pack!) We were absolutely blown away by our beautiful, affordable experience in Puerto Rico and want to encourage others to visit and fall in love with the island much like we did.