All-Inclusive Vacations: Is it "all" really included?
Vacations are a way to re-connect with yourself, relax and get away from the daily routine of life. And though they can be an expensive luxury, that needn't be the case. Many 5-star accommodations are aware of this and they usually offer all-inclusive deals which can make the experience more accessible.
These all-inclusive vacation packages are some of the most popular travel packages offered by travel agencies and resorts. They are extremely popular from December to April during the high Caribbean season, which should come as no surprise, but would you believe there are even specific resorts which provide only all-inclusive travel?
Looking back at when all-inclusive travel emerged, it was in the 1950s that Club Med resorts introduced an all-inclusive scheme in their resorts. Over the years, different resorts have altered the model depending on the services offered by the particular hotel.
So what are you actually getting?
While most all-inclusive vacation packages cover the same basic staples, some include amenities that may surprise you.
Some of the fairly standard items include the following:
three meals a day
alcoholic and non-alcoholic beverages
transport services
sports facilities and equipment
instructors for sports like water aerobics, archery, and swimming
And some resorts even offer the following:
spa treatments
live shows
24×7 room service
laundry
airport transfers
We often get swayed by the "All Inclusive" sign on a deal thinking that this might be the best available at the quoted prices, forgetting to focus on the tiny asterisk that could literally cost us a fortune later. It is highly important to list all the things you need and don't need and then do your homework on the various packages offered in order to select the best one suited for your needs.
And what's not necessarily included?
The following are some of the things one must remember before booking an all-inclusive vacation:
No airfare – Most of the packages do not include airfare and one must be prepared to shell out for their own tickets.
Airport transfers – While some vacation resorts do offer free airport transfers for their all-inclusive packages, some — like those in the Dominican Republic — can charge up to $30 per transfer.
Limited alcohol – You should be aware that many of the hotels do not offer an all-you-can drink pass, and at some you might have to pay if you want an upgrade from a simple wine to a champagne-based cocktail. Premium brands of alcohol are also often an extra charge.
Sports – While most non-motorized sports facilities are included in these packages, several trademark destination-based activities like snorkeling, kayaking, parasailing and zip-lining are not included in the all-inclusive packages.
Services like babysitting, dry cleaning, tour excursions,  and beauty treatments are also not included in all-inclusive vacation packages.
None of the packages include honeymoon and anniversary specials, nor are birthday parties included.
Room service – Although integral to almost all hotels, room services might not be included in your vacation package. In fact, some hotels might even charge you extra for having your meals delivered to your room.
Internet – While it is downright preposterous that one has to pay for wireless in the 21st century, unfortunately some resorts do charge you for connecting to their Wi-Fi services. Some resorts might have complimentary internet services in the lobby but most of them charge for every byte your iPhone uses to keep you in touch with the outside world.
While the above list is a good way to estimate the financial cost of your vacation, join us for Part 2 of this article where we cover the non-monetary cost of going the all-inclusive route: "All Inclusive Vacations: What They Don't Include (Part 2)."
---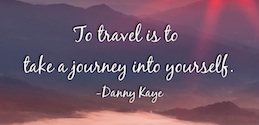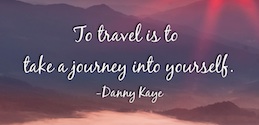 This travel quote moves and inspires us, so we have created free wallpaper files for your desktop, tablet, and phone.
Simply sign up here to download the files and get a bonus printable packing list! 🙂