I have to speak a foreign language in two weeks??? PANIC!
The situation: Fourteen days to cram French for a last-minute business trip to Paris — alone. Panic set in. Having never taken so much as a high school course, it was time to out all the stops to immerse myself in this new language. Fortunately, after only two weeks of self-study, it was easy to ask basic questions and communicate regarding how to get places and order food and drink. It was even possible to make small talk with the locals, who I'm sure were very forgiving of my syntax. Here's how I hacked foreign language for travelers and how you can, too:
Education On-the-Go: Whether you drive or ride, getting to and from places is one of the best venues to immerse yourself in a new language. So pack up those language tapes, CD's, or MP3's and switch yourself "on" during this usual downtime. If you're driving, you will especially benefit from repeating key phrases aloud. (Say them in your head if you are in public — unless you don't mind funny looks.)
Read Language Phrasebooks: Highly recommend doing this before bedtime, so your brain processes the information overnight. Focus on travel sections relevant to you (hotel/train/sightseeing), and don't overdo it by reading too many sections at once– it's best to pick two or three and read them over a few times so you reap the benefits of repetition. A good trick is to read the English phrases and cover the translation so that you "quiz" yourself on the material. Say it aloud as much as possible, and don't be surprised if you dream of the new language — this is a great sign that you're getting it!
Subliminal Learning: This technique engages your subconscious enough to help assimilate key words and phrases that you may later discover helps you phrase things even if you're quite sure how you know. Two ways to make background noise work for you: a) fall asleep to language lessons on a digital music player, and b) keep language lessons playing at a low volume while going about your daily work. Don't worry about actively paying attention…your subconscious is listening.
Watch Movies: Once you understand the basic structure of your new language, this may end up becoming your favorite practice technique if you get hold of some good flicks. The method is simple: become actively engaged in correllating the subtitles to the spoken words, and pay attention to questions and key phrases. Watch the actors' mouths and notice pronunciation. After a few movies you'll realize you're tying more and more words together, with the advantage of listening to native speakers at their normal pace and inflection, which is what you'll be faced with in reality.
If you are lucky enough to have time for classes or joining a language group, that will make your grasp all the stronger. If not, commit to the techniques above and you'll no doubt surprise yourself when you arrive at your destination.
Now, some people swear by using Rosetta Stone.  While that is certainly a great supplement to your learning, it involves more graphics-based interaction at your computer, and if you need to learn how to speak a language conversationally in a very short amount of time, my personal recommendation is to immerse yourself with audio, so the recommendation here is to use Pimsleur.
The Pimsleur Language Program is audio-based (CD's), but what you can easily do is put all those audio files into mp3 format and put them on a portable music player (like your iPod). They have many offerings, but for this purpose you want to stick with the "conversational" programs.
Congratulations on your commitment to learn something new, and bon voyage!
---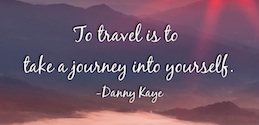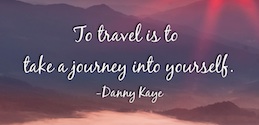 This travel quote moves and inspires us, so we have created free wallpaper files for your desktop, tablet, and phone.
Simply sign up here to download the files and get a bonus printable packing list! 🙂