The following is a guest post by Roxana Oliver. If you love Vietnamese food, you'll love this photo essay tour of some of the finest Hanoi street food. Bring your appetite and enjoy!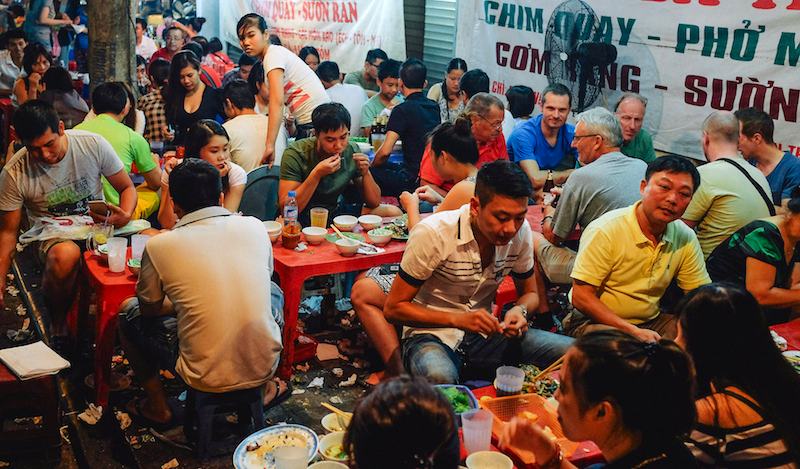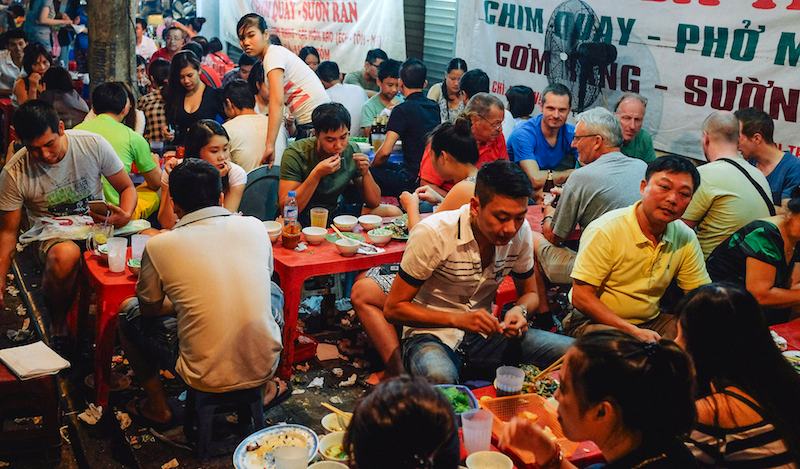 A perfect destination for any globetrotter eager to experience Vietnam at its best, Hanoi is a great city for lovers of culture, history, national cuisine and bustling nightlife alike. If you're a Hanoi first-timer, you should definitely give the local food a go – and the best place to taste Vietnamese dishes in Hanoi are street vending stalls and kiosks. Following is a list of some must-try grub sold on Hanoi streets, so check them out before you settle for average edibles served in the local hotels and restaurants – I guarantee you'll fall in love with the flavors at first bite.
1. Pho Real – Delicious Noodles
Vietnam's best known national dish, pho (pronounced "fuh") is a noodle soup prepared with broth, rice noodles, herbs and beef or chicken and it's often served as a side dish with vegetable garnish, dipping sauces and hot pepper. Thanks to its tasty appeal, pho is quite popular outside Vietnam too, and comes in several styles. Of these, Hanoi and Saigon are the most popular, and you should consider this a must-try during your stay.
You can learn more about pho in this article.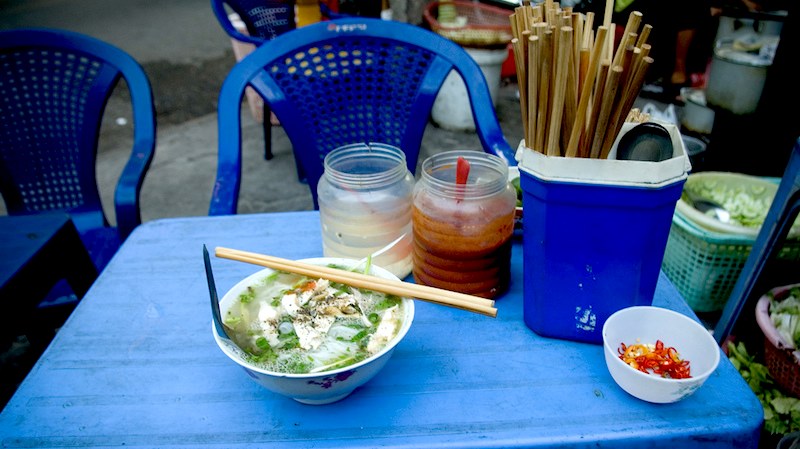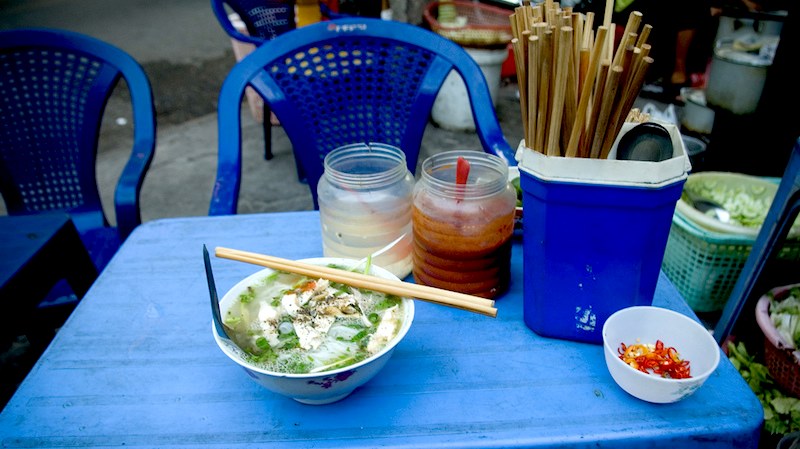 2. Soft Purple Yam Cakes
A much-loved Vietnamese dessert, soft purple yam cake (Bánh Dẻo Khoai Lang Tím) is both visually appealing and extremely flavorful. Made from purple yam, coconut meat and rice flour, soft yam cakes are highly nutritious so they are a great high energy small meal option if you are taking, say, a walking tour of Hanoi. If you are curious to try these at home, here is a good recipe.
3. Fried Bot Chien
A favorite Vietnamese snack, bot chien is made from rice flour dough pieces which are wok-fried until crispy then topped with an egg. For added flavor diversity, the cooked dish can be served with green onions, shallot or papaya slices, and it is often enriched with a dash of pickled chili sauce and/or rice vinegar.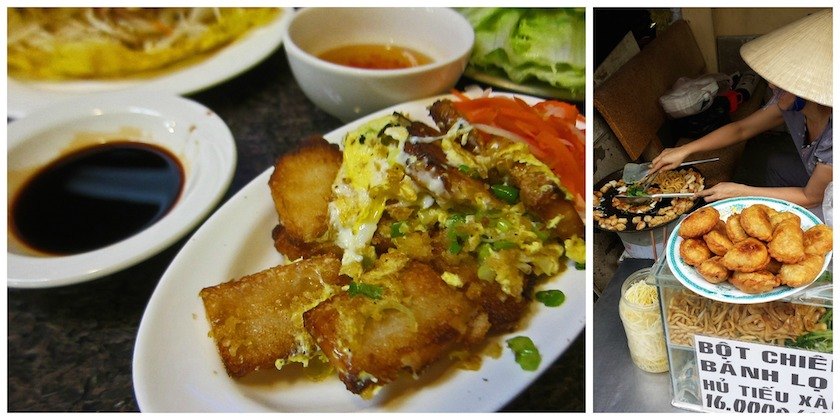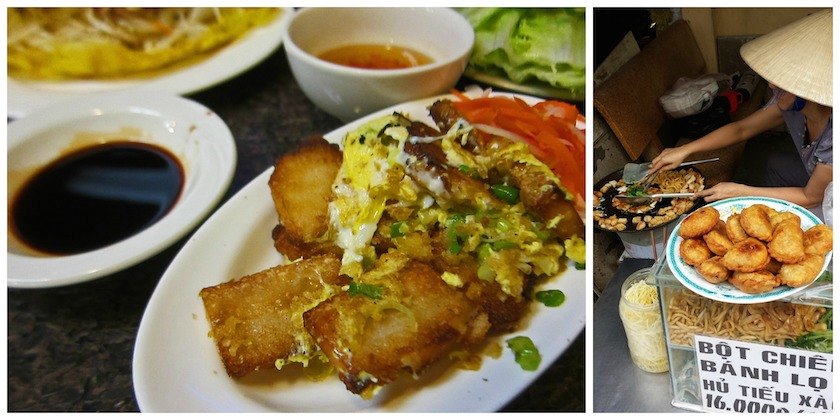 4. Fried and Steamed Flour Cake
A must-try dish for Vietnam vacationers, fried and steamed wheat flour cake is a typical afternoon meal prepared with either chili sauce or sweet and sour sauce. Available from most Hanoi street vendors, the fried-steamed wheat flour cake is a great treat to keep hunger at bay in between meals so look for it next time you take a walk around the Old Quarter.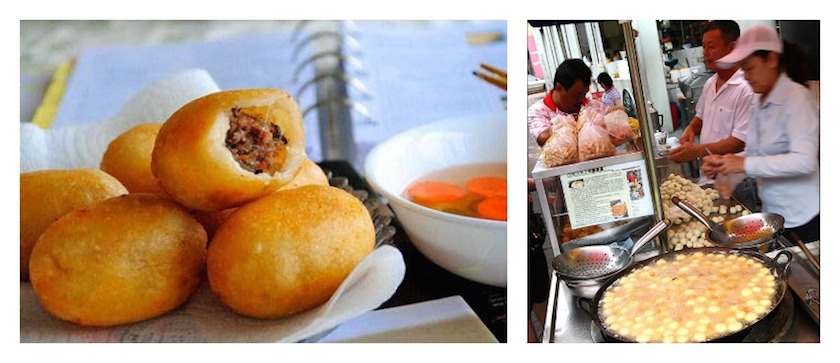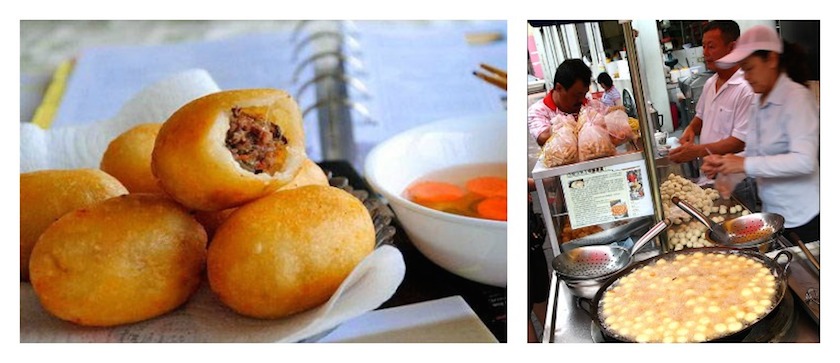 5. Eggs Galore
A widely available and convenient snack, duck and quail eggs are sold in almost any street in the Vietnamese capital. Boiled with salt, ginger and lemon juice and/or pepper, quail and duck eggs can serve as a light breakfast or supper and if you want to save some extra cash, you can also buy them in 10-piece cartons at the local markets to prepare on your own.
 6. Banh Mi, Oh My!

Sold on literally every corner of Hanoi streets, banh mi (pronounced "bon mee") is Vietnam's signature bread. Extremely appetizing and crispy, the Vietnamese baguette is made from wheat and rice flour and it is often used for sandwiches. In Hanoi, you're bound to be offered a banh mi sandwich with some thinly carved carrot, cucumbers, pickles, mayonnaise, liver pate and beef or chicken, but you can also add ingredients after your own taste – either way, you're in for a mouthful of delicious Hanoi flavors.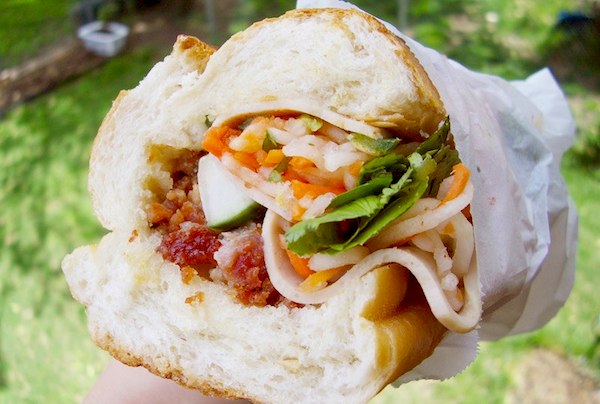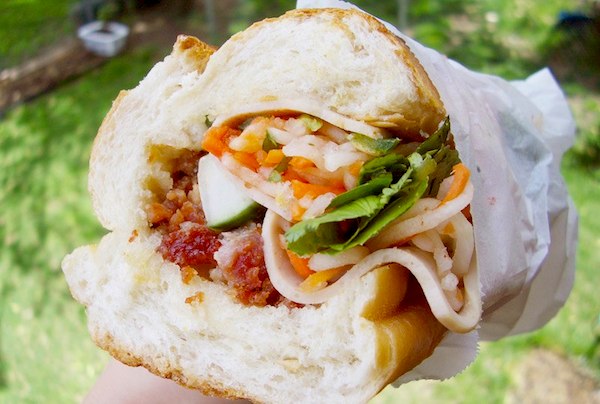 7. Bo Bia Spring Rolls

Prepared from dried shrimp, sausage, carrots, scrambled eggs and jicama, bo bia is a delicious type of spring roll adapted from the Chinese menu. Sometimes made with alternative stuffing consisting of tofu, lettuce and bean sprouts, bo bia comes rolled in rice paper and spiced with salt and pepper for extra flavor so it's a great meal option for lunch on the go.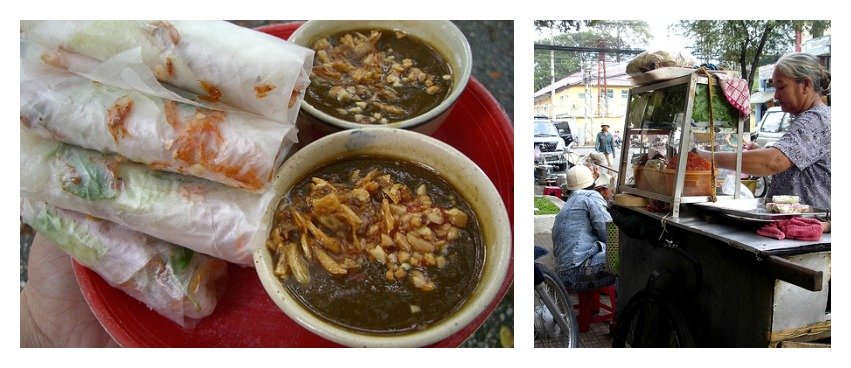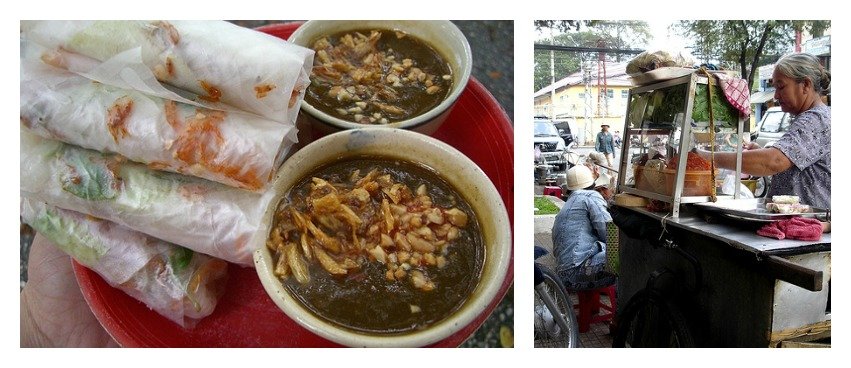 8. Hoa Qua Dam
A chunky tropical fruit salad, hoa qua dam is a refreshing treat that springs up at vending stalls around Hanoi at the start of every hot Vietnamese summer. A healthier alternative to ice cream, hoa qua dam is sometimes mixed with condensed milk for additional flavor and creaminess.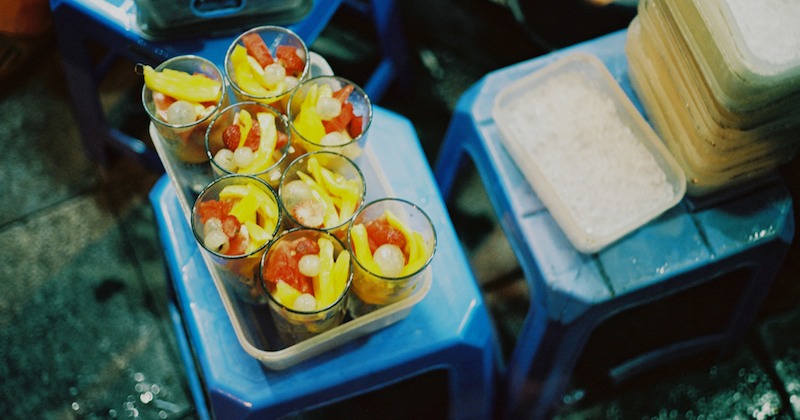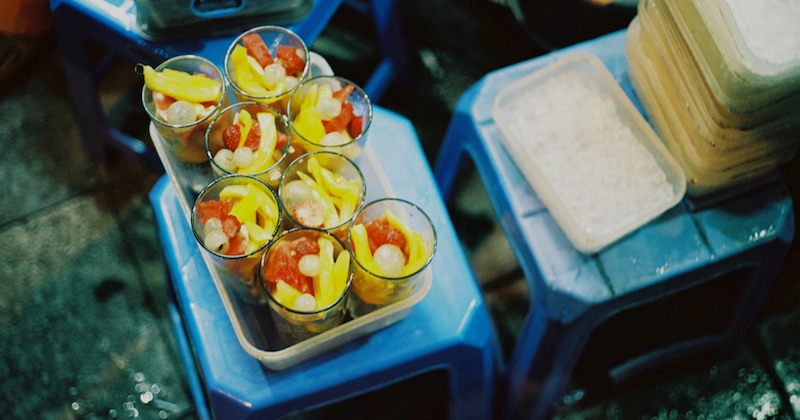 9. Nom Hoa Chuoi
An appetizing banana salad popular in Vietnam, nom hoa chuoi consists of thick purple banana flowers peeled and carved into thin slices combined with carrots, green papaya and cilantro, all topped by a dash of chicken, crispy peanuts and fish sauce dressing, though there are variations.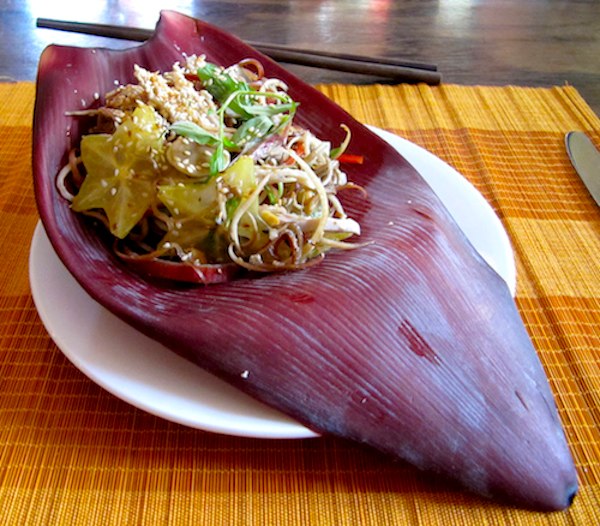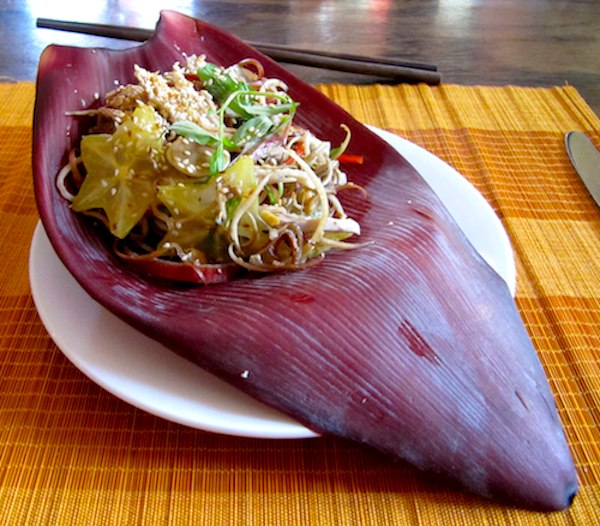 A place of culture, history and wonder, Vietnam is a great destination for any traveler looking to expand their cultural and epicurean horizons. When in Hanoi, do as the Vietnamese do – grab some grub off the street stalls and savor every bite – you'll be back for second helpings in no time!
Supplemental Resources
Here is a Hanoi Street Food Tour from a different perspective.
For the super-serious foodie, there are a lot of Culinary Tours available, but I strongly recommend you go to Vietnam first!
---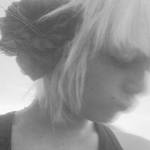 Roxana is an adventurer, a frequent traveler and blogger at highstylife.com. Besides traveling she loves to cook exotic food and take care of her two adorable dogs Astoria and Brando and her mischievous cat Archibald. Roxana is an environmentalist by vocation, and she loves taking long walks at the beach.