Bioluminescent Bay Puerto Rico : One of the most amazing things to do in Puerto Rico, with a Video to Prove It!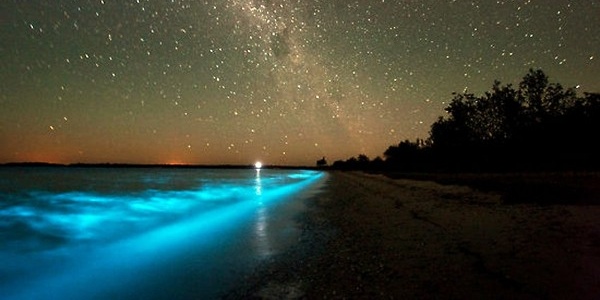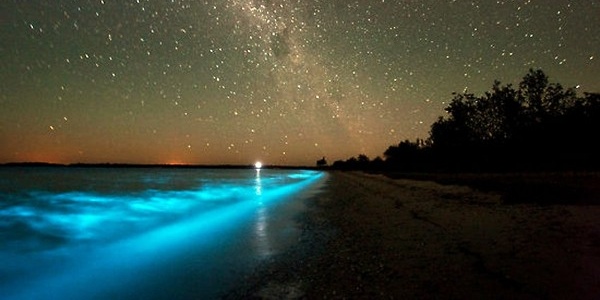 We believe in engaging in culture, food, and activities that really define a destination — something unique to that locale.
And that applies to activities and tourist attractions — why not look for experiences that are specific to a destination's culture and natural environment? This is why we explored the bioluminescent bay in Puerto Rico, though at the time we had no idea quite how special it is.
Bioluminescence occurs in many species, including the very common lightning bug. But how does that concept apply in aquatic terms? There are many sea creatures that are bioluminescent: cuttlefish and squid, to name a couple. A bioluminescent bay is an ideal habitat for the flourishing of small dinoflagellate plankton, most of which emit a bluish light as a defense mechanism when agitated. These habitats can occur in different locations at different times of the year, but very few locations are ideal habitats year-round. The bioluminescent bays in Puerto Rico are such locations.
From Wikipedia's entry on Bioluminescence:
Bioluminescent dinoflagellate ecosystem bays are among the rarest and most fragile, with the most famous ones being the Bioluminescent Bay in La Parguera, Lajas, Puerto Rico and Mosquito Bay in Vieques, Puerto Rico, and Las cabezas de San Juan Reserva Natural Fajardo, Puerto Rico. There is a bioluminescent lagoon near Montego Bay, Jamaica.
So basically, going to Puerto Rico and not visiting the "Bio Bays" (as they're called) is a little bit like going to Paris and skipping the Eiffel Tower. "Oh, we can see the Eiffel tower later when we…OH WAIT, NO WE CAN'T."
Right.
So what's the best way to see the Puerto Rico Bioluminescent Bay? Two words: Kayak Tour.
We write about our personal experience on the night kayak tour to the bio bay in our Puerto Rico Travel Guide, and fortunately we were able to find a pretty accurate representation in an online video. This is the exact bio bay kayak tour we participated in — from an outpost in Fajardo through a narrow mangrove-lined channel out to Laguna Grande. Usually there are two tours and we recommend taking the earlier one so you can still see the mangroves and enjoy the last light of a magnificent sunset.
For the most part, the video is pretty accurate, except that we loved listening to the information dispensed on the tour. Our tour guide was knowledgable and savvy, and we learned interesting facts about the island, the plankton, and even some constellations! It made the kayak tour all the more enjoyable.
Bioluminescent Bay Puerto Rico : The Video!
If you are planning to go to Puerto Rico, we hope this information and video have convinced you that this is an absolute must-see, must-do tourist attraction on the island. We are hopeful that preservation efforts continue to protect this delicate ecosystem so that we can enjoy bio-bays for many generations to come.
Booking a Bio Bay Kayak Tour
If you are driving or can arrange your own transportation, we took this tour with Pure Adventure.  Their guide was friendly and knowledgeable and it was a fantastic experience. Prices vary by season so you definitely want to check rates and absolutely book in advance. Here is the bio bay tour page with links to book.
If you prefer not to rent a car, there is a service that will pick up and drop off from a list of popular San Juan hotels. Although the price is generally a bit more, you will be sharing a ride and don't have to worry about navigating your way there or driving in unfamiliar territory at night.
Book an all-inclusive tour here.
We hope you consider the bio bay tour during your visit!
Go back to the Puerto Rico collection of original articles and photos.
---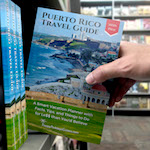 You can read about our this and various other adventures of our visit in the Puerto Rico Travel Guide, now available on Amazon as an e-book. (No bulky books to pack!) We were absolutely blown away by our beautiful, affordable experience in Puerto Rico and want to encourage others to visit and fall in love with the island much like we did.