Mindset, Money, and All the Little Details
Between the frequent flyers and the round-the-worlders you've got a lot of travel tips out there. What to pack, where to go, how to be…everyone's got an opinion. But we have an infographic!
So what do you think, travel experts? Are all the pointers on a master traveler below on track? Do you find a rain poncho absolutely necessary? Do you take time to learn the native language before you leave? Enjoy this compilation of ideas for being a travel master.
What do you think? Did you pick up a new trick or two?
---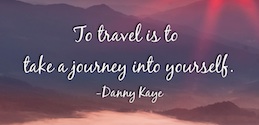 This travel quote moves and inspires us, so we have created free wallpaper files for your desktop, tablet, and phone.
Simply sign up here to download the files and get a bonus printable packing list! 🙂