Ah, the Glorious Romantic Getaway!
Between honeymoons and Hollywood we are SO ready to plan and take the fabled couples' vacation. We expect to gaze lovingly at each other over a beach sunset and have beautiful multi-course dinners paired with the perfect vintage wine — the ultimate in romantic travel.
So why do we sometimes end up fighting over who ate the  last chocolate in the mini-fridge?
It's simple, really: travel pushes us outside our comfort zone.  And when we're out there — where it's unfamiliar, where we don't have complete control — we can get touchy and defensive.
This is a totally normal response and fortunately there are ways to help us keep our cool. Looking at the nine steps below, and being mindful of your differences but choosing to focus on your rapport, you have a much better chance of keeping the "romance" in your upcoming romantic travel holiday.


How To Survive A Holiday With Your Partner In 9 Steps [Infographic] by the team at Holiday Gems Ltd
So…not too hard, right? Just remember these golden rules:
Plan the vacation together and agree on all important points (Steps 1-5 above)
Negotiate activities, time together/apart and be willing to compromise
Above all: be nice! Don't let little things put a sour note on your vacation
Remember: romantic travel helps you celebrate your partnership so cherish the experience!
---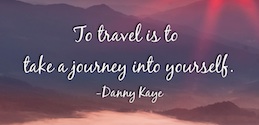 This travel quote moves and inspires us, so we have created free wallpaper files for your desktop, tablet, and phone.
Simply sign up here to download the files and get a bonus printable packing list! 🙂