Are you a wanderlusty vegan or vegetarian?
Chances are you're familiar with being more mindful while you travel, and ponder this question often:
How do I enjoy the local flavors while maintaining my plant-based diet?
We hear you. And in that spirit we'd like to share a proven vegan travel approach that's aptly suited for the risk-takers among you. Now, QUICK DISCLAIMER: You're open to the full spectrum of plant-based ingredients, right? This is not the time to be fussy about parsnips or the local produce even if you have no idea what it is. With a little luck you'll be in for quite a treat. Are you ready for the secret?
It is simply this: give the chef full license to make a vegan plate however he or she sees fit.
Control freaks like me: please take a breath.
Visualize whirled peas or whatever you need to do.
Now, read on with an open mind…
There's A WAY to do it and here's how, step-by-step:
Review the menu. Identify some side dishes that look particularly appealing and are either vegan or easily vegan-ized. For example, a side dish of mushrooms sautéed in butter could easily be sautéed in olive oil. Identify two or more items that look appealing to you.
Talk honestly with your waitperson …tell them you'd like a vegan plate, and point out the 2 or 3 items you've identified as possible candidates that look good to you. At this point you've introduced what your dining goal is, and have proactively offered some options that look suitable.
Now you're ready to make the request. This is a good way to phrase it: "I'm happy to pay the full dinner (or lunch) price for any plate the chef would like to assemble for me that is vegan. Tell the chef I trust their judgment and look forward to what they create."
NOTE: This works just as well for vegetarians or anyone with specific food allergies, too. At this point you have relinquished control and put your dining experience in the hands of the chef.
This can go one of three ways, and we think the odds are in your favor:
Option One: Sorry, no dice. That particular chef may be too busy to attend to special requests or they may be limited by pre-made dishes or limited ingredients. This is unlikely as they will usually try to accommodate all patrons, but in this case what will probably happen is you will be notified that they are either unable or unwilling to make substitutions to veganize your meal.
Option Two: About what you'd expect. They will make the substitutions you suggested to your waitstaff and you will get a combination of veganized side dishes that make a totally passable and often really delicious meal.
Option Three: This last option is the one you're hoping for: an off-menu meal that completely knocks your socks off. This is what we have consistently discovered: at any decent restaurant — and most especially at nicer restaurants — chefs really do take pride in their work. Cooking is a creative act, and putting something together that is outside their usual selection of dishes could both brighten their workday and delight your senses.
Once upon a time many years ago I was traveling in Costa Rica with a good friend. We stopped in at a nice little restaurant called Carolina's where she – the owner/chef – was running the kitchen. No huge surprise here, but there were no vegan dinner options. I did exactly what's described above, hoping against hope that I could at least leave not hungry (my skepticism had me aiming low). What I got instead was something best described as a multi-course meal of culinary miracles. I remember a ginger-garlic carrot soup that stunned me speechless. Carolina even came out to check on us and I will never forget that night or that meal.
Ever since then, I decided that this kind of payoff was worth it and resolved to keep this strategy and open the door to delightful surprise.
Just relinquish a little control and see what miracles may come. That's what travel is all about, isn't it?
---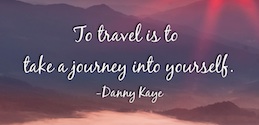 This travel quote moves and inspires us, so we have created free wallpaper files for your desktop, tablet, and phone.
Simply sign up here to download the files and get a bonus printable packing list! 🙂