Our Favorite Vegan Asheville Restaurant Meals
I once heard a comedian make fun of self-proclaimed "foodies." "Everyone's gotta eat, so we're all 'foodies,'" he said.
Point taken.
However, because our vegan choice means a more limited food universe than our omnivore friends, food is especially important to us. And we mean amazing, mouth-watering, eyes-roll-back-in-your-head food.
First Stop: We have a winner! *ding, ding, ding*
Rosetta's Kitchen: Vegan Comfort Food (when we most needed comforting)
Once we got settled in at our BnB lodging, we ventured out in search of vegan eats on a Wednesday night. Our first stop in Asheville was Rosetta's Kitchen, and talk about putting your best foot forward!
Tired and very hungry from the hustle of that day's flight transfers and car rental, we were looking forward to a delicious meal and Rosetta's did not disappoint. We ordered the vegan burger and portabella steak, mashed potato and greens entrees. Here's the view from our cozy booth vantage point.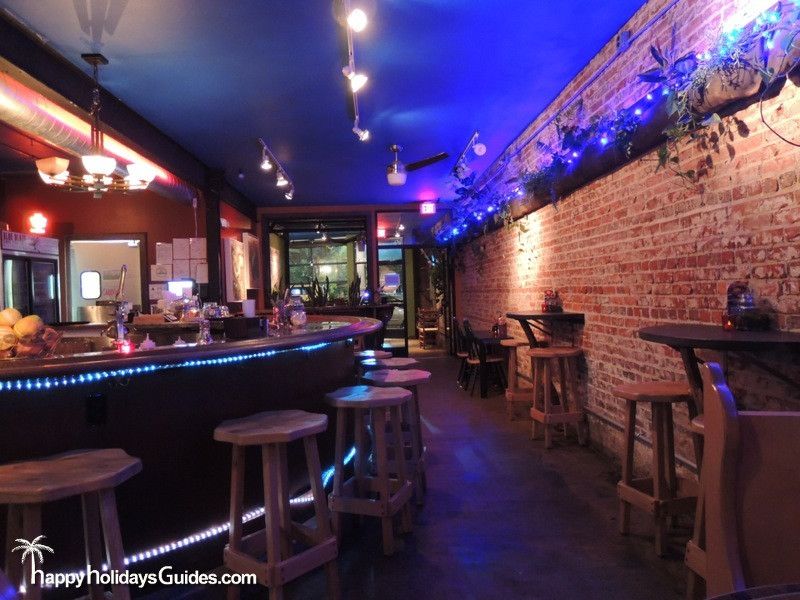 The reason we stopped at Rosetta's first is because we had watched this video below and were impressed with her point of view as well as curious about her menu. She's not kidding about that gravy! We were so wowed that we sent an inquiry after getting home and Rosetta generously sent us the recipe! We are still enjoying that gravy to this day – an Asheville memento that keeps on giving!

To learn more about her philosophy and menu, visit the Rosetta's Kitchen website.
Day Two: Lunch Downtown
Kathmandu Cafe – A Taste of the Himalayas
Now Kathmandu Cafe is not a vegetarian restaurant, but they do have some delicious options. We ordered a sampler platter which featured a selection of about five veggie portions — all savory and with exotic cumin and curry spices. Make sure you specify that you are vegan since they offer creamed spinach and paneer options, which do contain dairy.
Our faves were the chickpea, eggplant, and lentil-based selections, and we had a fascinating tea made with rosewater and (I believe) cardamom. Not something you're used to, but makes for an interesting taste experience. Lots of attention to the decor and very friendly waitstaff!
Here's the link to their Urbanspoon Reviews.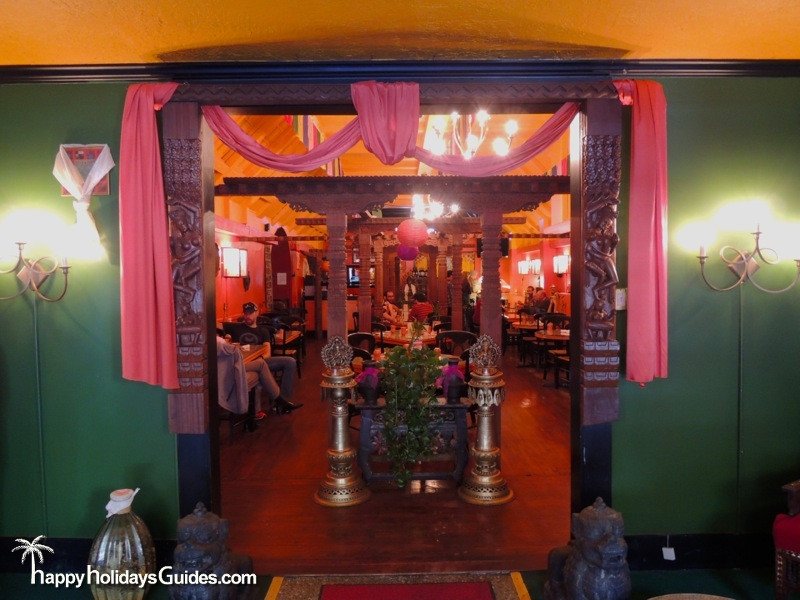 The Perfect Sunday Brunch
The Laughing Seed Cafe
Is it possible we found yet another downtown gem? Yes. For the love of broccoli, yes. We met a dear friend here for Sunday brunch and here's our advice: come early! I had the vegan tempeh and root hash and it was a perfect combination of flavors and textures. So good. (Side note: the coffee was excellent, too!) We didn't have a chance to visit the downstairs pub but that's definitely on our to-do list for next time!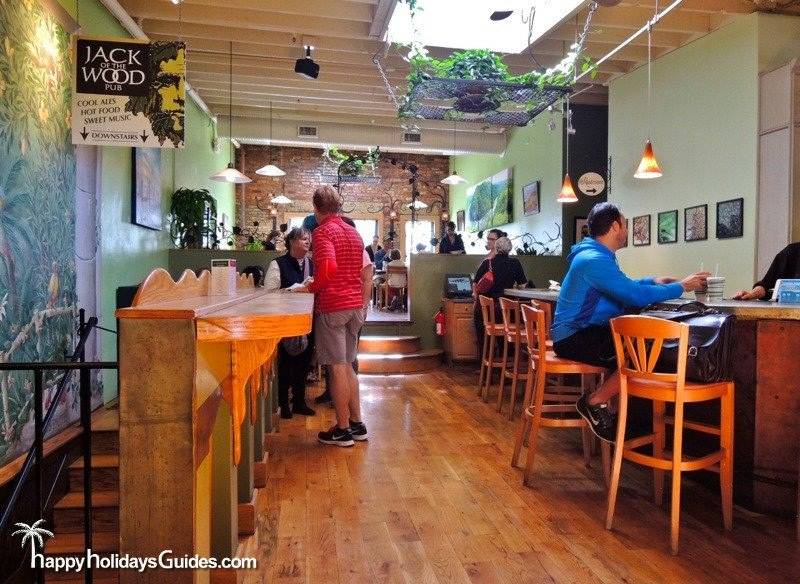 Another great video by The Traveling Vegetarian is below, showcasing the restaurant space and a variety of dishes. It's useful to note that the Laughing Seed menu changes frequently, so you may want to check online so you know exactly what's available.
Montford Park Noontime Stroll
Nine Mile – Casual Caribbean-Inspired Food

Having a bit of a yen for historic homes, we spent a couple of hours walking up, down, and sideways around Montford Park, admiring architecture and landscaping alike.  So by the end of our tour we were hungry and those last few blocks to Nine Mile seemed extra-long.
We ordered the signature Nine Mile (with tofu and linguine) and the Raz Roots Chili for me.  Satisfying and savory, the only caution I'd give is to go one degree lower on your heat index than you think.  I have a slightly lower heat tolerance and "medium" felt like "high" to me. But overall very savory and it's hard to beat the original location. On a pleasant day you can sit outside as pictured here.
For menu info and all the details, visit the Nine Mile website.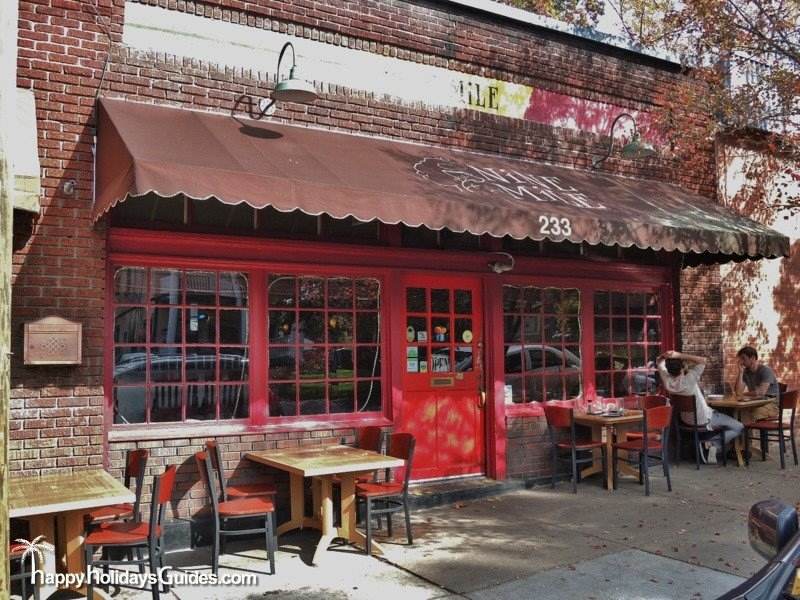 Honorable Mentions:
Had a delicious soy latte and huge vegan chocolate chip cookie at the Well-Bred Bakery in Weaverville.
Enjoyed delicious potato samosas at Chai Pani downtown, though beware the crowds!
Lots of vegan snacks and supplies from Ingles Market, whose staff were incredibly helpful to us out-of-towners.
Additional Resources
Overall, we got a delicious taste of the vegan Asheville, and hope this list is helpful for the plant-based newbie or visitor.
---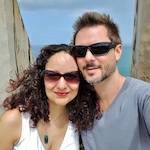 FULL DISCLOSURE: We ate a lot of plants in Asheville. A LOT. Our dream is to possibly return on a more permanent basis. What say you, Asheville?
Want to stay in touch? Subscribe, broadcast a tweet or send us a note. Know anyone who might enjoy this? Share it below!