Get Up Close and Personal with Nature in Key West!
So many luxury cruise lines include Key West in their Caribbean itineraries that it's no wonder the island is considered a mecca for excellent dining, drinking, and shopping. However, let's remember that all of these amenities prosper here because they are set on a gorgeous tropical island that wows everyone from first-time visitor to long-time residents.
Taking time to explore the island's natural side reaps plenty of rewards. For your benefit, we've divided the Key West nature attractions showcased here into three categories below: Aquatic Activities, Botanical Bliss, and Eco-Education. Enjoy!
Aquatic Activities
Snorkeling — Multiple Locations
Swimming with the fishes is perhaps the most popular activity (after drinking) in Key West. But we don't mean that in the mafia sense. We mean it literally: grab a mask and some fins and get in there! Colorful parrot fish and sergeant majors are plentiful. Get close to the rocks and you will likely see a barracuda hiding in the shadows. Corals, sea sponges, sea stars, giant sea turtles and rays are all common. Word to the wise: watch for jellyfish in the winter.
Snorkel the Great Florida Reef.
Four tips on finding the right snorkel gear and spot.
Guided Nightpaddling or Kayaking
How about exploring the undersea world after the sun goes down? This guided tour from Ibis Bay Paddlesports features illuminated, glass-bottomed boats or illuminated paddleboards to create your own real-time nature documentary. The tour lasts a generous 90 minutes and usually takes place in a shallow bay on the Gulf of Mexico, where your enthusiastic guide will hop out at the slightest opportunity to offer up a spiny lobster, octopus, sea cucumber, giant horsehsoe crab or whatever else is nearby so you can check it out up close. This tour is appropriate for beginning kayakers and paddlers.
Here are some nightpaddling tour details.
Fort Zachary Taylor State Park
Looking for the most bang for your buck? Try Fort Zach (as the locals call it). History buffs will love the civil war era fort; hikers and birders will love the plentiful trails (which are also a popular local spot for joggers). A large, shaded picnic area with tables and grills beckons when you need to refuel. Plus, full amenities from showers and restrooms to snack shack and gear rental are all on-site. And we haven't even mentioned the most popular attraction yet, which is why we've pulled this into the "aquatic activities" category: the two beaches. The main beach is very popular for snorkeling and sunbathing. As for the second beach… we swore an oath of silence — but if you find it, you'll figure out why the locals like to keep it a secret!
You can find more park details at the Florida State Parks site.
For live action check out the Fort Zach live webcam.
For more photos, take a look at our Fort Zachary Taylor photo essay.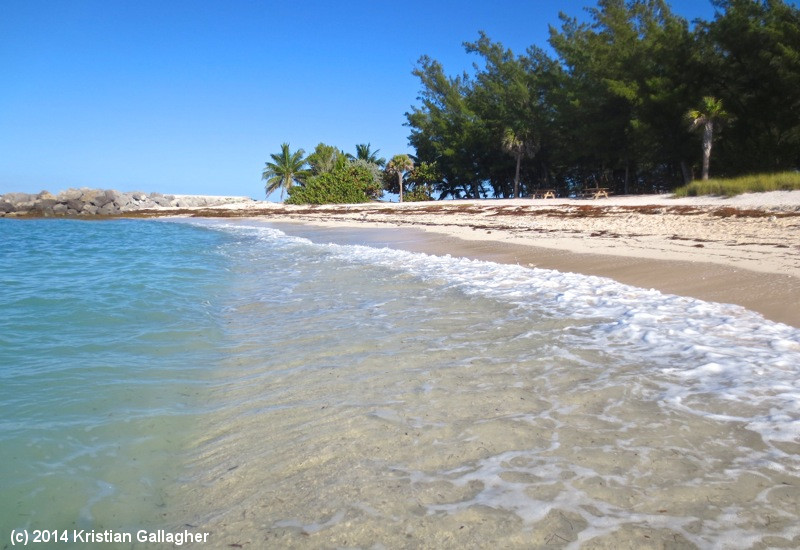 Botanical Bliss
The Key West Garden Club
So it's a hot day in the tropics. You want shade. You want to relax. We have just the spot! Head over to the West Martello Fort on the shores of the Atlantic, where the members of the Key West Garden Club curate and maintain a free display of tropical and native plants. So dedicated are they, that after Hurricane Wilma destroyed much of the garden in 2005, many of the members donated plants from their own gardens to replenish this calming, much-loved oasis. The garden features shaded pathways that wind through themed areas including a butterfly garden and a native plant display. Due to both the beautiful setting and its gorgeous view of the Atlantic, this is a popular place to get married.
Key West Garden Club Official Site.
For more photos take a look at our Key West Garden Club photo essay.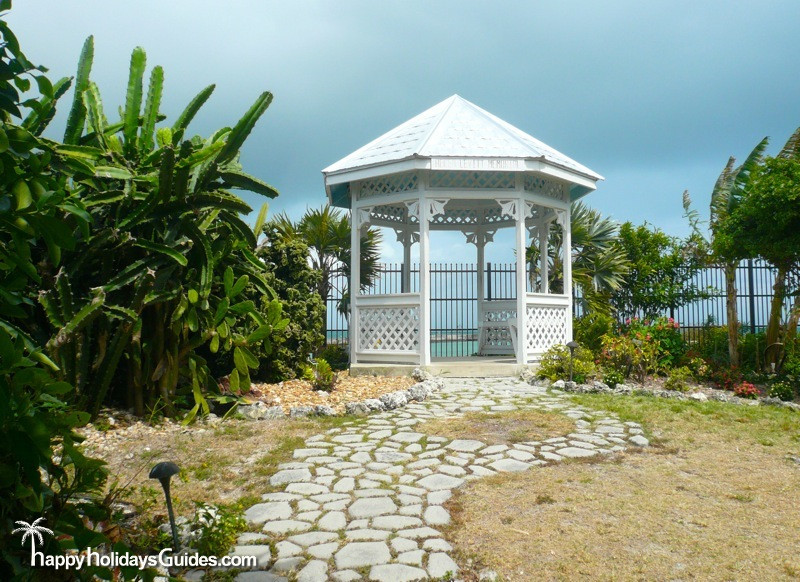 Key West Tropical Forest and Botanical Garden
While the Key West Garden Club grew out of local residents' love for playing in the dirt, the Key West Tropical Forest and Botanical Gardens is a larger and more formal entity, run by a non-profit dedicated to research and education. It's tucked away on Stock Island, making it one of the few attractions convenient to New Town. For extra plant-y goodness, the best time to visit this garden is when they are hosting one of their many festivals, events, or plant sales. As an added bonus, if you have an interest in visiting Cuba, they organize group eco/educational travel to the island nation just 90 miles off the Key West shores.
The Key West Tropical Forest and Botanical Garden official website.
And here is more info on their Cuba tours.
Eco-Education
Eco-Discovery Center
The Florida Keys are entirely surrounded by a national marine sanctuary. If this intrigues you, head to the Eco-Discovery Center located on the Truman Waterfront. This museum and educational center houses no animals or plants. However, what it does feature are detailed exhibits of all the primary coastal and marine habitats of the Keys and South Florida, paired with a variety of multimedia exhibits. You'll come away with a deep understanding of how this unique (and fragile) ecosystem works, and enough great Keys nature trivia to win all the bar bets for the rest of your trip.
Here is the Florida Keys Eco-Discovery Center official website.
Bahia Honda State Park
If you're up for a day trip, just 45 minutes away by car is Bahia Honda State Park. Yes, it is a state park, but you'd be forgiven for confusing it with a tropical paradise. White sand beaches, pristine turquoise water, and hardly any crowds. Sounds just like Key West, you say? Not at all — Key West is a city, with all the traffic, noise and crowds that go with such things. Bahia Honda is an entire island park. Just you and nature. Best of all, the water here tends to be clear even when Key West waters are murky. The water is so clear and shallow, you can snorkel all the way around the island if you choose. Rare plants and butterflies reside on the key, so bring your field guides and binoculars. This state park features full amenities, including restrooms, showers, snack shack, dive shop, and even campsites. A special feature of Bahia Honda are the still-standing ruins of the enormous Overseas Railroad, also known as Flagler's Folly.
For more park details, check out the Bahia Honda Wikipedia entry.
For you history enthusiasts, here's the story behind the abandoned Overseas Railroad.
We hope you enjoyed this list of Key West Nature Activities…it's the perfect excuse to get out there and enjoy some tropical sun!
---
Want more Key West goodness? Follow This Is Key West on tumblr.
Curious to read more Key West articles? Go back to the Key West Travel Portal.