Lost in Translation?
It's interesting how much you can learn about a culture by understanding its language. Language is, after all, the chief way we communicate. Below you'll find some interesting ideas that are used frequently enough as to merit their own word in these different languages.
Consider also that there is probably a list of English untranslatable words. What could they be? Enjoy this fun culture lesson.
---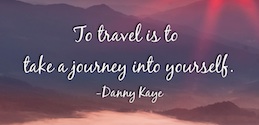 This travel quote moves and inspires us, so we have created free wallpaper files for your desktop, tablet, and phone.
Simply sign up here to download the files and get a bonus printable packing list! 🙂