Can we say, "BRRRRRRRrrrrrrr?"
If your favorite holiday song is Winter Wonderland…
If you watch "Wildest Arctic" on Netflix…
If you have five or more scarves…
Then these snowy, picturesque European winter destinations may be the travel ticket for you.
Iceland seems to be all the rage these days, and I wouldn't mind a visit so long as you keep the fermented shark at a good distance. (We heard you can smell the ammonia as you approach the shops. Blarg.) In tastier news, we have tried Gluhwein, which is a warm spiced wine perfect for cold conditions.
As far as activities are concerned, whose bucket list DOESN'T include the northern lights? Dog-sledding definitely sounds fun, and exploring an amethyst cave sounds straight out of a fairytale. Read on for more interesting city highlights…
7 European cities to enjoy in the snow [Infographic] by the team at Wimdu
Are you chilly yet? I had to put on a sweater just to write this. Have to admit, though — these are some very beautiful landscapes. And you know, not everyone is the beach type.
If you're in Europe, consider these winter destinations as a possible stop on your tour!
---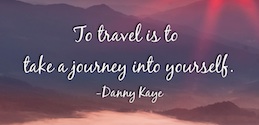 This travel quote moves and inspires us, so we have created free wallpaper files for your desktop, tablet, and phone.
Simply sign up here to download the files and get a bonus printable packing list! 🙂