Need a plug adapter for your visit to Italy?
An outlet adapter for your epic trip to Thailand?
These and other country-specific outlet types are covered in the handy travel infographic guide below. Keep in mind to look at the amps and voltage, and make a note of the pin types. A great travel plug adapter set is the Conair Travel Smart Adapter Kit, with five common adapters.
We hope this helps you connect your favorite devices and make your travels that much more enjoyable.
Worldwide Travel Plug Guide [Infographic] by the team at Momondo Group Ltd
---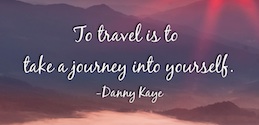 This travel quote moves and inspires us, so we have created free wallpaper files for your desktop, tablet, and phone.
Simply sign up here to download the files and get a bonus printable packing list! 🙂