Will you be in Europe over the Holidays?
Then by all means, take a look at the infographic below and see if you can fit one of the seven largest European Christmas destinations onto your itinerary. These are Europe's biggest and most festive holiday fairs, so you are sure to be delighted by amazing local food, beautiful sights (see pictures below), unique artisan wares, and a cosmopolitan group of attendees. Below you will find highlights on holiday markets in:
Germany
U.K.
Sweden
Austria
France
Denmark
and the Czech Republic
Intrigued? There are over 30 reference URL's at the bottom of the image for further research and reading. Enjoy!
7 Largest Christmas Markets From Around Europe [Infographic] by the team at Wimdu
Did one of these make your list of Christmas destinations? Drop us a line if so!
---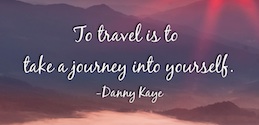 This travel quote moves and inspires us, so we have created free wallpaper files for your desktop, tablet, and phone.
Simply sign up here to download the files and get a bonus printable packing list! 🙂