We hope you enjoy these nine excellent tweets covering ecotourism news, guidelines, and perspectives.
Simply click through the tweets below to learn more about ecotourism and sustainable travel trends. When so many are using these terms freely, the articles and links below reflect the true comprehensive spirit of ecotourism, and guess what? It's not just about having a picnic in a state park. 😉
Five Key Mantras of Ecotourism
Let's start with the basics, shall we? Many thanks to UNWTO for putting together this nifty memorable graphic for us:

Travelling soon? Your actions count! Help turn #1billiontourists into 1 billion opportunities for #sustdev worldwide! pic.twitter.com/gRGa7bNZ5K — UNWTO (@UNWTO) November 13, 2014
Ecotourism and Responsible Travel: Useful Tips from Expert Travel Bloggers
Eleven top travel bloggers cover ecotourism examples including local spending, community education, and volunteering.
Ecotourism and Responsible Travel: Useful Tips from Expert Travel Bloggers: http://t.co/VCsjb1R71t
— Nomad is Beautiful (@NomadBeautiful) November 9, 2014
Top 2014 Ecotourism Destinations
Some of these may not be a surprise, but you may find one spot that calls to you in particular. A great opportunity to think about how to support nature and culture when you travel.

Planning a holiday trip? Check out top travel destinations for the eco & social conscious by @ethical_traveler http://t.co/yc8RmagSgY — Net Impact SF (@NetImpactSF) November 21, 2014
Well, This is Encouraging…
How a top resort in The Maldives is taking the initiative to restore and preserve the environment with various sustainability projects.

The Maldives: Making a Splash in Eco-Tourism http://t.co/aJWIfYTUMk #ecotourism #ttot #travelculture #travel — Travel Culture Mag ✈ (@TravelCulture) November 16, 2014
Ecotourism Can Transform Economy, Community
Typically we think of ecotourism from the standpoint of a traveler who might enjoy the experience. In this poignant counterpoint we see things from the other side — some thoughts on how Kenyan ecotourism can help stimulate the economy by serving both tourists and locals.
How to grow our tourism potential #Ecotourism http://t.co/hcmMACq7OU
— EcotoursmDemystified (@EcotDemystified) November 21, 2014
Thoughts from an Eco-Camp Leader
This interview with Javier Lopez – founder of EcoCamp Patagonia – offers an inside view on ecotourism and includes what a day at an adventure camp could be like. The geodesic dome lodge pictures are a bonus.
Interview with Javier Lopez, co-owner & founder of EcoCamp Patagonia, via @Outside_GO ! #ecotourism #hotel #patagonia http://t.co/MyGSwGx4YO
— EcoCamp Patagonia (@ecocamp_travel) November 19, 2014
Global Report on Adventure Tourism
People love to strap a GoPro camera to their helmet and go bungee jumping or catch mega-waves. With adventure travel becoming more and more popular, this in-depth report ties with sustainable tourism. Co-authored by the UN World Tourism Organization and the Adventure Travel Trade Association.

Very pleased to announce the release of our Global Report on #Adventure Tourism with @UNWTO http://t.co/vtYWJZN8yp pic.twitter.com/RwDLV041Vk — ATTA (@adventuretweets) November 5, 2014
Totally Rad Car-Free Towns
Are you up to HERE with your daily commute? Tired of being stuck in traffic? Here are some great destinations where you can spend locally and do your sightseeing on foot.
Totally Rad Car- Free Towns http://t.co/aHn8FlGLZy #ecotourism
— Green Global Travel (@GreenGlobalTrvl) April 9, 2014
On the Horizon: Top New Ecotourism Destinations
These four new locations could be the hot new name in ecotourism very soon. One definitely surprised me.

These destinations could hold the future for #ecotourism http://t.co/VMCkeZw7Lk
— HuffPost Travel (@HPCaTravel) March 29, 2014
We hope you enjoyed these! If you'd like to learn what truly defines ecotourism, check out our article What is Ecotourism and Why is It Important?
---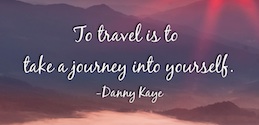 This travel quote moves and inspires us, so we have created free wallpaper files for your desktop, tablet, and phone.
Simply sign up here to download the files and get a bonus printable packing list! 🙂