The following is a guest post by Roxana Oliver. If you love Vietnamese food, you'll love this photo essay tour of some of the finest Hanoi street food. Bring your appetite and enjoy!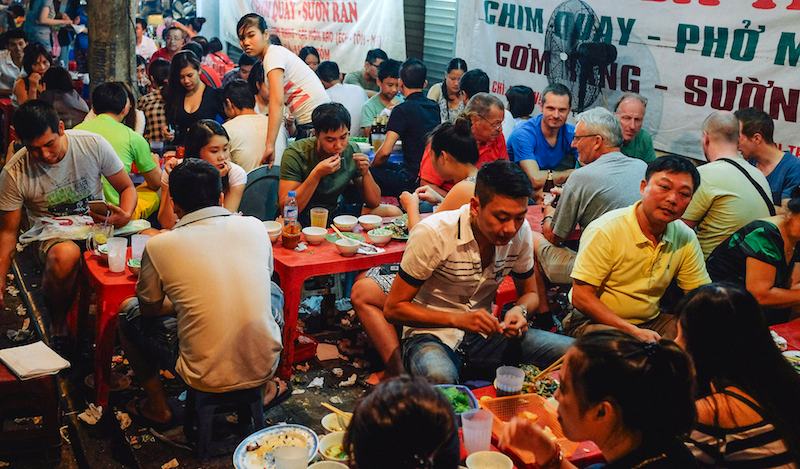 A perfect destination for any globetrotter eager to experience Vietnam at its best, Hanoi is a great city for lovers of culture, history, national cuisine and bustling nightlife alike. If you're a Hanoi first-timer, you should definitely give the local food a go – and the best place to taste Vietnamese dishes in Hanoi are street vending stalls and kiosks. Following is a list of some must-try grub sold on Hanoi streets, so check them out before you settle for average edibles served in the local hotels and restaurants – I guarantee you'll fall in love with the flavors at first bite.
1. Pho Real – Delicious Noodles
Vietnam's best known national dish, pho (pronounced "fuh") is a noodle soup prepared with broth, rice noodles, herbs and beef or chicken and it's often served as a side dish with vegetable garnish, dipping sauces and hot pepper. Thanks to its tasty appeal, pho is quite popular outside Vietnam too, and comes in several styles. Of these, Hanoi and Saigon are the most popular, and you should consider this a must-try during your stay.
You can learn more about pho in this article.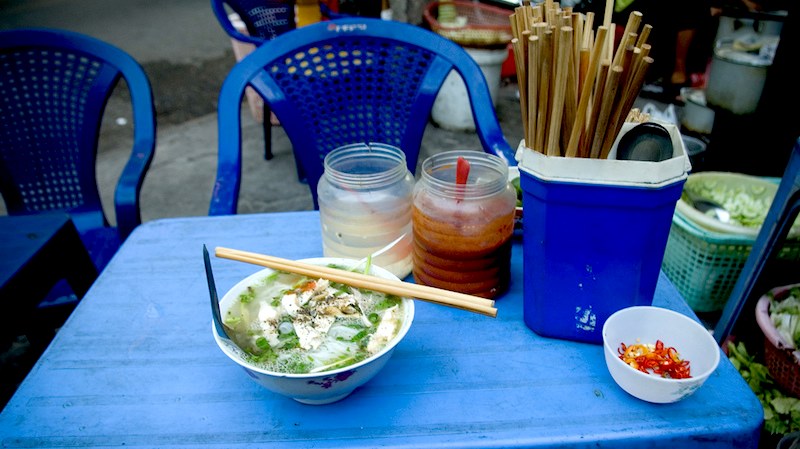 2. Soft Purple Yam Cakes
A much-loved Vietnamese dessert, soft purple yam cake (Bánh Dẻo Khoai Lang Tím) is both visually appealing and extremely flavorful. Made from purple yam, coconut meat and rice flour, soft yam cakes are highly nutritious so they are a great high energy small meal option if you are taking, say, a walking tour of Hanoi. If you are curious to try these at home, here is a good recipe.
3. Fried Bot Chien
A favorite Vietnamese snack, bot chien is made from rice flour dough pieces which are wok-fried until crispy then topped with an egg. For added flavor diversity, the cooked dish can be served with green onions, shallot or papaya slices, and it is often enriched with a dash of pickled chili sauce and/or rice vinegar.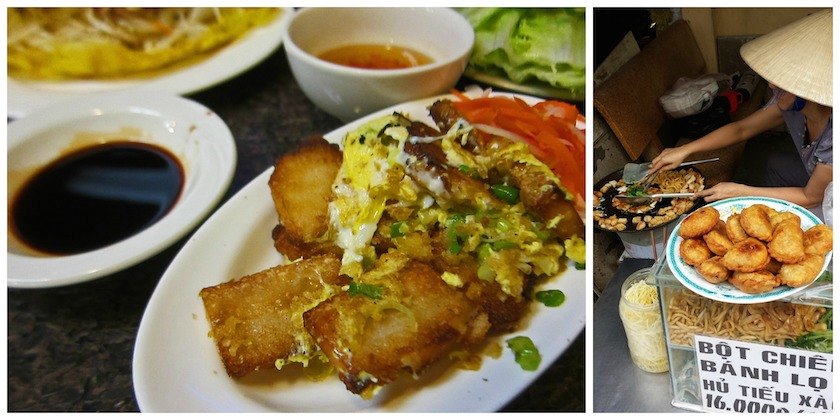 4. Fried and Steamed Flour Cake
A must-try dish for Vietnam vacationers, fried and steamed wheat flour cake is a typical afternoon meal prepared with either chili sauce or sweet and sour sauce. Available from most Hanoi street vendors, the fried-steamed wheat flour cake is a great treat to keep hunger at bay in between meals so look for it next time you take a walk around the Old Quarter.