Eagle Creek Pack-It garment folding envelopes changed the way I travel.
Here is my review, including an instructional video at the end so you can see the genius of how they work.
But first, the backstory:
It was June 2007. I was set to go to Paris and a girlfriend offered to let me borrow her Pack-It folding envelopes, one small and one medium. They were black. I was skeptical.
As I folded everything up for my trip, the first thing that caught my attention was that I felt a little bit like I was doing folding training at the Gap, but that using the plastic folding rectangle was actually kind of idiot-proof. When you're doing last-minute packing (is there any other way?) idiot-proof is good. There are even pictures for you in case you are unsure as to how to fold something, but let me tell you…it's not rocket science.
The medium size fits perfectly in any carry-on roller bag, and two of them stack nicely on top of one another.
It was a business trip so I had to pack business clothes. But I also had some days off to enjoy the city so needed comfortable walking clothes and a light rain jacket for the cool evenings. Well the packing envelopes handled it all like a champ. My business suit emerged nine hours later across the atlantic completely wrinkle-free, and my jacket and jeans folded down to their absolute minimum by the glory of velcro and a little effort to get them as tight as possible.
On my last day I had a bit of a panic, though.
Most of my clothes had been worn and rumpled and I did not opt for the pricey hotel laundry service. Plus now I had a few extra things from Paris shopping! I wondered if everything was going to fit back into my luggage.
Eagle Creek Pack-It folders to the rescue. These packing envelopes don't care if your clothes are clean and pressed or wadded up from days of sightseeing and occasionally napping in public parks. If you just follow the folding process and pull each of the flaps tight, your clothes will compress down to the absolute minimum to keep your luggage nice and roomy.
So when I got back state-side, I gave the packing envelopes back to my friend and promptly ordered two of them for myself. They are green. I am pleased.
Here's how to use them:

And you can have this awesomeness through the miracle of the Internet:
Save yourself time and buy two mediums. You can buy a small but I didn't find it quite as useful. Click the image below or click here to see the other bright cheerful colors they are available in:
---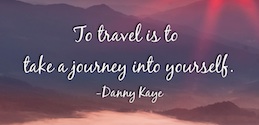 This travel quote moves and inspires us, so we have created free wallpaper files for your desktop, tablet, and phone.
Simply sign up here to download the files and get a bonus printable packing list! 🙂