This is a guest post by Maura Nevel Thomas, a productivity expert, TEDx speaker and published author. Below you will find her advice on select travel accessories to make your travel easier.
What to Pack? Travel Gear Advice from a Purposeful Road Warrior
There are times when I'm on the road often. To maintain balance, I try to arrange my schedule so that I have at least one full week at home every month. The other three weeks I'm usually traveling about 2-3 days each week. As a result, I've discovered what I really need to have with me to make my trips as productive, enjoyable, and convenient as possible. This list of travel accessories is great for domestic trips and in fact any of these would make a great gift for the frequent traveler in your life.
Phone Holder/Card Case (with wrist strap)
As I walk through airports and navigate rental car pick-ups and hotel check-ins, I need a few things immediately accessible:
My iPhone (for boarding passes, confirmation numbers, travel apps and the clock)
My driver's license
Cash and/or credit card
I need these things handy, but I also prefer to have my hands free to wheel my suitcase and/or carry my purse, flip through a magazine, etc. Traveling in an outfit with pockets definitely helps, but sometimes comfortable travel clothes don't have pockets. I also tried a hip pouch, but it's not that fashionable. A purse with a couple of outside pockets works, but not all of my purses are set up that way. I think I've finally found the answer in the "Phone case with storage space" from Eyn. It holds all of those things well, plus it has a wrist strap so that it keeps my hands free. You might think this is only helpful for a woman, but a man could add a belt clip to it, or use the strap to attach it to a briefcase.
Portable Gadget Charger
Even with all the battery-saving tips like shutting off the bluetooth, setting email checking to "manual," and disabling the automatic app-updating I find that my iPhone needs a charge by the middle of the day. Sometimes it's easy to find a plug, and sometimes it's not. These chargers are portable and handy, plugging in to your device via USB (just make sure you have the proper connections for your devices.) The one I bought offers more than two full phone charges before it needs to be charged itself, and they are easy to find most everywhere now, including the Container Store or any electronics store. I bought mine on Woot for $15 and it works great. There are several at Amazon, such as this one and this one. (Just check for compatability with your devices.) I've seen many styles for under $20, so they should fit within your travel budget. Oh, and in addition to charging my iPhone, it can also charge my iPad and my Kindle.
Bag Bungee
For those trips when you have a laptop or other smaller bag sitting atop your wheeled suitcase, a Bag Bungee keeps everything together and prevents the top bag from sliding off. It's also great for holding a coat, blanket or neck pillow. They are available in many places that sell travel accessories, and here is one I like.
Water Bottle Hook(s)
Water is a travel requirement. I travel with my stainless steel bottle and a bottle hook without fail. Many airports are starting to offer purified water "fill stations," which is great. The convenience of being able to clip them to something and not have to carry them, or have them take up room (or potentially leak) in a bag, is great. The hooks pictured on the left can be found here on Amazon.
The great thing about these is that you can use the carabiner hook for other things. You can keep your hands free and clip just about anything (a carry-out bag with your lunch, a travel pillow, another bag, your iPhone holder, your water bottles, etc.) to your suitcase or other bag.


Essential Oil Spritzers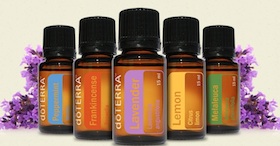 So you probably didn't see this one coming. I've been learning how to use essential oils and certified pure therapeutic grade (CPTG) oils are extremely versatile. This CPTG distinction is important. Most commercially available essential oils are only for external use. If they aren't safe to enter your body, then they have limited usefulness. I use doTerra CPTG oils which are safe to consume, rub directly into your skin, and inhale. The exceptions are oils made from plants that aren't safe to eat, such as eucalyptus and cedarwood (well, maybe they're safe for koalas, but not for us). I have two travel-sized spritzer bottles that I purchased at a local beauty supply shop. One is peppermint and one is lavender, both versatile oils. I made them by mixing distilled water with a few drops of the oil. Lavender is calming, peppermint is invigorating. To re-energize after a long plane ride, the peppermint spritzer can be sprayed on pulse points, or into your hands where you can breathe it in deeply. It can even be used as a breath spray. In much the same way but with opposite effect, you can use the lavender oil. For example, if you can't get to sleep in your hotel room, or if jet lag is an issue, you can spritz your pillow with it. Incidentally, I keep these in my purse or car all the time, not just for travel, as they come in very handy. Peppermint is helpful for an upset stomach, and lavender helps ease bug bites and stings. Spritz a wet cloth with either and put it over your eyes or forehead to ease a headache. Do you see now why they call them essential oils?
By now I'm sure you can see how these travel accessories will ease your upcoming journeys, so here's to more comfortable and productive trips.
---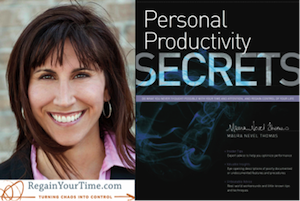 Maura Thomas is a thought leader on attention and achievement, and author of Personal Productivity Secrets. She founded RegainYourTime.com in 2003, which provides speaking, training and consulting services in productivity and effectiveness to clients both nationally and internationally.