A short, accurate video tour of the historic Cristobal Castle in Old San Juan, Puerto Rico.
Walking through Cristobal Castle (also called Castillo San Cristobal) in San Juan Puerto Rico is like taking a trip back to Spanish colonial times. Looking at the soldier's quarters, real cannons and cisterns you get a little taste of what outpost life was really like for the soldiers. Enjoy this short video tour. Although you can't feel the ocean breeze or hear the crashing of the waves, this little tour will give you a better idea of the grounds you can explore.
---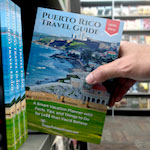 Puerto Rico's National Historic Site is a must-see if you are visiting the island. You can learn about our recommendations on the historic site and help plan your vacation in our Puerto Rico Travel Guide, now available on Amazon as an e-book. (No bulky books to pack!) We were absolutely blown away by our beautiful, affordable experience in Puerto Rico and want to encourage others to visit and fall in love with the island much like we did.