This 20-minute video could change everything…in the best way.
Do you own your life, or does it own you?
Are you living your dream, or somebody else's?
Are you writing the script, or just reading the one handed to you?
These questions are answered, poignantly and passionately, by Adam Baker in his TEDx talk delivered in Asheville, NC.  What begins as an honest question between husband and wife ends up changing the course of the rest of their lives, and if weighed carefully, could do the same for you.
Without spoiling it — because it is a beautiful, authentic story — we will say this: it's easy to talk about our dreams as if they will never materialize. It's easy to give up on them before even making a real attempt to attain them. It's easy to talk about wanting freedom to travel, about how someday from Fiji we'll write our great novel.
This couple took action, and while they don't claim it was easy, their commitment was solid and they were willing to really own and change the course of their lives.
Please consider investing just :20 of your time to watch the video…it could affect how you see things in your own life, and even how you make decisions.
Adam Baker, TEDx Asheville: Sell Your Crap, Pay Your Debt, Do What You Love
Well, what did you think? Were you inspired by Adam and Courtney's bold action? Moved by the simple but powerful question that started it all?
We believe everyone should have the freedom to travel, and this couple (plus baby!) prove that with some planning and honest work, everyone can.
If you agree, please share below and help get this message out to more people!
---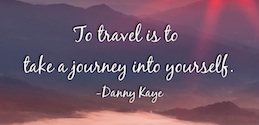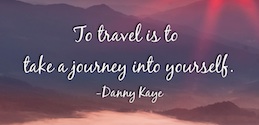 This travel quote moves and inspires us, so we have created free wallpaper files for your desktop, tablet, and phone.
Simply sign up here to download the files and get a bonus printable packing list! 🙂