NOTE: Due to a big relocation, guest publishing is temporarily paused until around August 2017 or until we complete the relocation, whichever occurs sooner. Check back with us then!

Are you an adventurous traveler who likes to color outside the lines?
Interested in sharing some off-the-beaten path travel advice and things to do in your favorite travel destination? Do you have some valuable travel tips or some unusual attractions in destination cities? Can you write? As in: you have an excellent command of English, exceptional storytelling style and other people tell you you should write? Do you have gorgeous 100% original travel photos that you simply must share with the world?
If so, we would be happy to consider your suggestion as a guest post contribution. Here's what we're looking for:
Travel Insights or Tips, or City Guide Info:
500-1200 words
Excellent English, grammar, punctuation and heaps of style
A helpful, witty voice with unique perspectives and/or useful info to share
3-8 associated pictures (we can help find a few for you)
Your picture and a short bio, with a link to your site/blog
Photo Essay:
9-12 pictures, 800px wide
You may watermark/brand your images
A written introduction to the essay, about 100-300 words
A short title and description for each photo
Your picture and short bio, with a link to your site/blog
Send links to writing samples or photos. If approved (and don't take it personally if not – we're quite picky) here are some perks:
We'll optimize the article for search engines
We'll feature the article in our regular social media rotation
Recognition for your authorship and a link back to your blog or site
You can show others that you have a published portfolio of work
---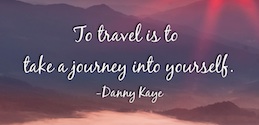 This travel quote moves and inspires us, so we have created free wallpaper files for your desktop, tablet, and phone.
Sign up here to download the files and get a bonus printable packing list! 🙂