Move over, Disney.
These sixteen amazing places will make you wonder if you've temporarily stepped into a parallel universe.
The castle in Germany makes me want to put on a princess hat (the kind where the veil flows dramatically behind you as you walk).
Kunming Village in China looks straight out of a cartoon.
And I'm already planning my retirement in Reine, Norway.
We hope you enjoy this small snapshot of fairytale destinations and are inspired by some of these exotic locations. Happy fantasizing!
Remember: Even though these look like movie sets (some of them were), you can actually go see them for yourself!
---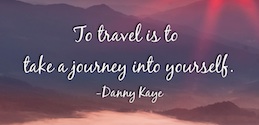 This travel quote moves and inspires us, so we have created free wallpaper files for your desktop, tablet, and phone.
Simply sign up here to download the files and get a bonus printable packing list! 🙂